Why Our Agency Grew From 5 to 25 Employees In 2 Years
By Scott Ginsberg, Head of Content, Metric Digital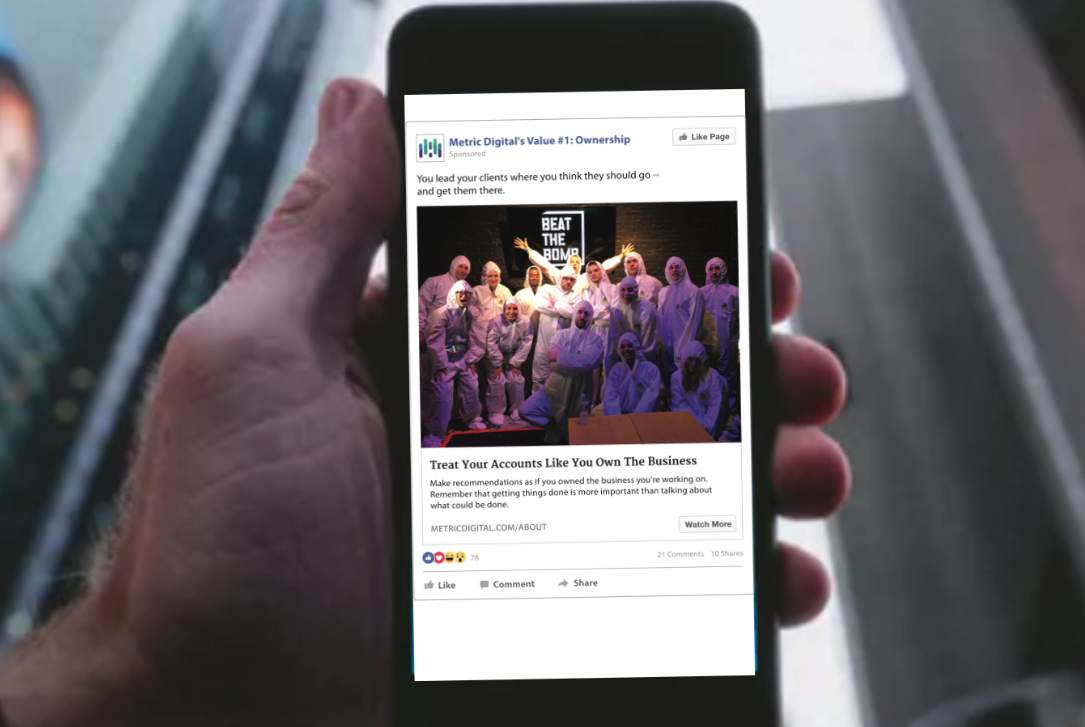 "Treat your accounts like you own the business."
This mantra is a reminder to everyone on our team that ownership isn't a buzzword, it's one of our core values we practice every day. It's also one of the key reasons our agency has grown from 5 to 25 employees in 2 years.
In this post, we're going to hear from a few team members on the topic of ownership, both as it relates to their day to day work as digital marketers, and also to their career in general.
What's the science of employee ownership?
But before jumping into the minds of our team, here are a few pieces of research to help contextualize the impact that ownership has on both the organization and the people who work in it:
Researchers from the University of Birmingham Business School studied 20,000 employees over a period of two years, finding that employees with higher levels of autonomy in their work reported positive effects on their overall wellbeing and higher levels of job satisfaction.
Gallup's recent study of nearly 7,500 full-time employees found that team members are 43% less likely to experience high levels of burnout when they have a choice in what tasks to do, when to do them and how much time to spend on them.
That's why, at Metric Digital, there is almost no limit to the amount of ownership you can take. This core value (and its daily expression) affords our team members the ability to advance much more quickly than they would under a more rigid organizational structure.
We're very proud of this. If you're someone who really wants to develop and build marketing skills and experience as quickly as possible, you can do that quicker at Metric than most other agencies. (See our open positions here!)
What's the opposite of micromanagement?
Autonomy is one of those things where you don't know what you've got until it's gone.
Or, to invert the old saying:
"You don't know what you're missing until you finally have it."
For example, think about a job in your past (hopefully not your present) where you were micromanaged within an inch of your life. Odds are, it negatively impacted your attitude, performance and overall impression of the company, right?
Metric Senior Digital Specialist Steve Geick commented on this issue, reflecting on his own work experience:
"When you're micromanaged, you feel disempowered, creativity is stifled, and as a result, your execution can actually get worse. Mostly because you're not required to actually take ownership and excel, you're just expected to sort of mimic what's being told to you."
This is where Metric's value of ownership takes center stage. We strive for a genuine absence of micromanagement, which is a huge benefit for our team.
"Every time you get micromanaged," Geick said, "people are telling you that they don't trust your ability to execute. Thankfully, our company leaders share their strategic vision, goals and what is expected of us. As a result, we can use all of our energy, experience, creativity and expertise to be able to execute our work, even in ways that our managers would never have imagined."
Do your company leaders trust you to take full responsibility for what you think is right? Are you constantly learning on the fly so you can improve for next time?
How do you bookend ownership with support?
Ownership doesn't exist in a vacuum. You have to bookend it with support.
One reminder we tell new and prospective team members is, although you'll be given substantial tasks, you'll also have a wealth of experienced people (and the occasional dog) to guide you and help you grow to the point where you can execute that work on their own.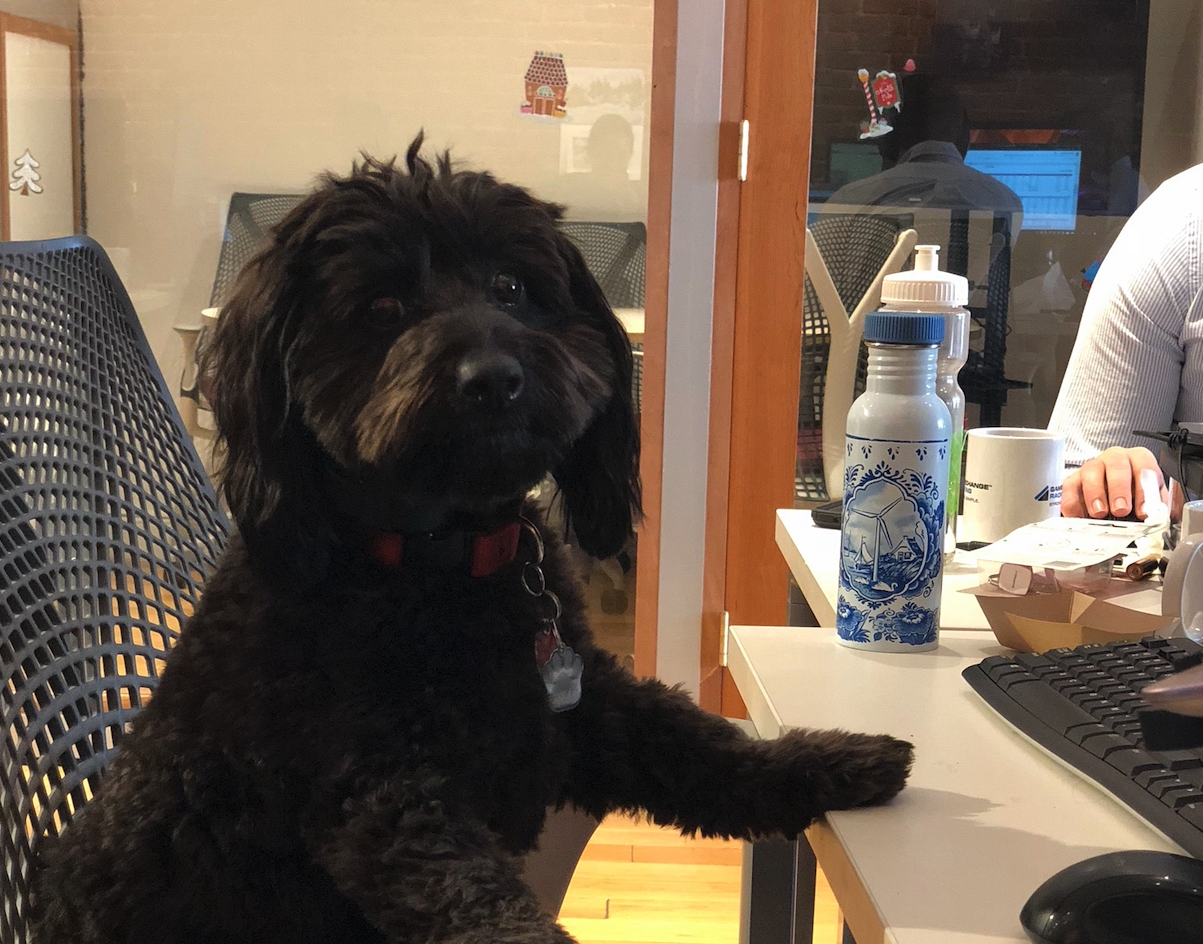 Digital Specialist Zachary Goldberg shares a few thoughts on the ownership/support combination:
"Whatever you don't know, somebody here knows. And the ability to just shoot out a message to the team and have somebody come back with the correct response is so helpful. Not only does it help me with that particular problem, but it also prevents me from having that problem again. And next time somebody comes to me with the same issue, I can pay that wisdom forward."
Matthew Breagy, Digital Specialist, echoed that same sentiment, particularly around the practice of bouncing ideas off the team:
"The other day a colleague of mine was talking about a nontraditional Facebook campaign for one of her clients. Her strategy wasn't specifically something my clients were doing, but it still challenged me to think outside of the box for my own book of business. Her client's insights were still applicable, and it was reassuring to know that I wasn't alone."
What kind of support system does your agency have? Do you have intellectual spotters helping you with your digital workout to push through that final rep?
How does ownership inform leadership?
The role of the modern digital marketing agency goes well beyond simply managing ad accounts for clients. They have a responsibility to educate clients with insight, data and other experiential knowledge. (We're writing a book about this called Badvertising, if you want to learn more.)
Here's another mantra that helps our team frame ownership:
"We lead our clients where we think they should go, and get them there."
Metric account managers have the autonomy to own the client relationship from top to bottom. It's one of the ways we're structured a little bit differently than other agencies. The client contact is also the primary campaign manager, rather than a big silo into two different team members.
This high degree of ownership comes with its own challenges. This is a warning we give candidates who want to work for us. If you're undisciplined, if you're not bringing a lot of your own structure to the table, then you can get into situations where tasks are slipping between the cracks and ultimately create your own stress.
Steve Geick chimed on this topic:
"When junior marketers come here for their first or second job out of college, it can be a shock. Their manager will ask a lot of them in their first thirty, sixty and ninety days, and that kind of tension will wake a person up. It's rare for somebody to come into this job already at the level of urgency that the agency naturally needs, but that's a startup for you. People adapt and it becomes second nature."
Zachary Goldberg uses a fascinating approach to ownership from his non-digital marketing experience:
"One of my favorite practices is theory crafting. In the nerdy gaming world, theory crafting is the mathematical analysis to assume optimal strategies and tactics. It's all about hidden systems. Friday is a perfect day for this. We will hypothesize how an ad might perform the following week, based on our data and client history. Now, we never know how it plays out until we actually run the ad, but it's still a useful experiment. You have to be curious, and then take action on that curiosity to see where it might take you."
# # #
Ultimately, our agency's approach to the value of ownership (as a behavior, not as a buzzword) is certainly not for everybody.
But as a company that has grown from 5 to 25 employees in the past 2 years, we're thrilled that it's a centerpiece of our culture.