Your Performance Marketing Ads Should Aim for Conversions, Not Admiration
By Ashley Moey, Marketing Analyst, Metric Digital
I grew up in Singapore dreaming that I'd be one of those fancy suit wearing traditional agency creatives, kind of like the ones you'd see on Mad Men.
But after working this past year at Metric Digital, I've learned that the approach to developing advertising creative for performance marketing is significantly different.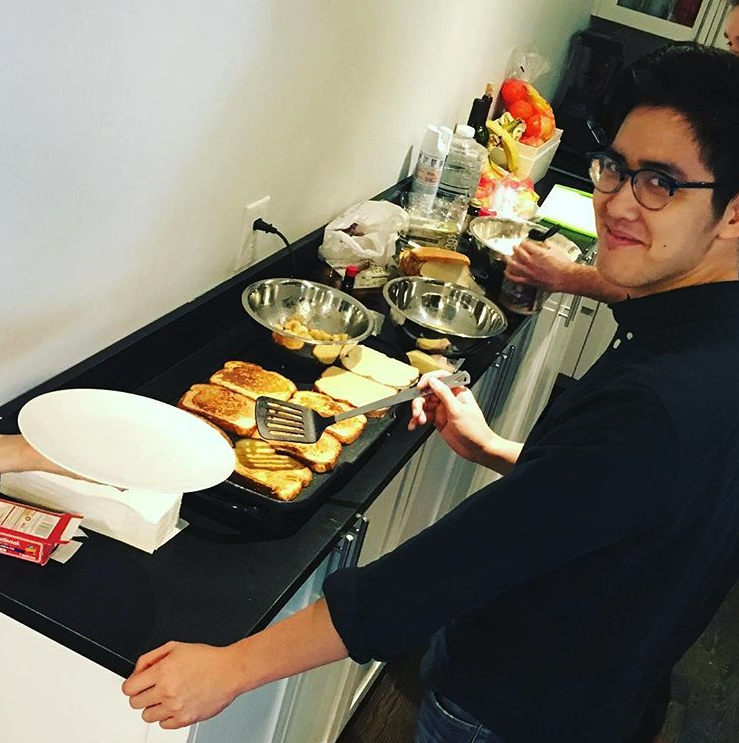 While the fundamental principles behind developing creative are still essential, the definition of what effective creative means in performance marketing goes beyond the traditional advertising mindset.
Today I'm going to explore how this definition has changed, how those changes affect the ideation process, and what an effective ad ultimately looks like.
How has the definition of effective creative changed?
The most significant evolution of advertising is the concretization of the purchase funnel in the digital era. Before digital performance marketing emerged, an effective ad was measured based on what people said through surveys and focus groups, churning out top of the funnel metrics like ad awareness, ad perception and ad retention scores.
Today, we can measure an effective ad based on actions. We can track impressions, click-through rates, add-to-carts, purchases, and so on.
But why does this matter?
Only one man can answer that question...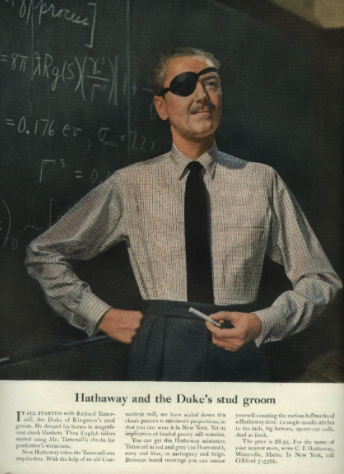 The Man In The Hathaway Shirt by David Ogilvy is one of my all-time favorite ads. The ad is captivating, the image is stunning and mysterious, and there are strong unique selling propositions in there.
It's a classic, intellectual, award-winning ad.
But what if this ad was run on Facebook today? How would it perform? How many sales would it drive?
Let's say Hathaway shirts had an ecommerce site and ran this ad. We could make several guesses as to how it would perform in the eyes of a Facebook user.
Brand Recall & Ad Retention:

Awesome. It's eye-catching, captivating and artistic. The brand name is shown in the ad.



Click-Through:

It's artistic, but isn't art meant to be viewed, not clicked? I didn't know that this ad was for an online store. There was no indication that this was shoppable.



Add-to-Cart / Purchase:

I clicked the ad, but I wasn't really looking to buy a shirt. The ad was just really interesting, and I wanted to see what it was all about.



Quite a few contextual hurdles to climb before Hathaway Shirts gets a sale, right?
In performance marketing, it's all about growing the business. If your ads do not convert audiences into customers, you lose.
As creative people, we are obsessed with the idea of an aesthetically perfect ad that exudes the brand voice and mission. However, if you want to grow your business, driving highly optimized and efficient sales are paramount. Aesthetics and brand agenda should be there to serve that goal, but not be its master.
Before your next campaign, challenge your marketing team with these questions:
How might your definition of creative success be obsolete?
Are you refusing to reinvent because you're comfortable with your current level of success and don't want to let go of what's working?
How has the ideation process evolved?
Traditionally, ideation was a prolonged process of developing ads. Agencies would get a bunch of intellectual and witty people in the same room and everyone would come up with a killer concept.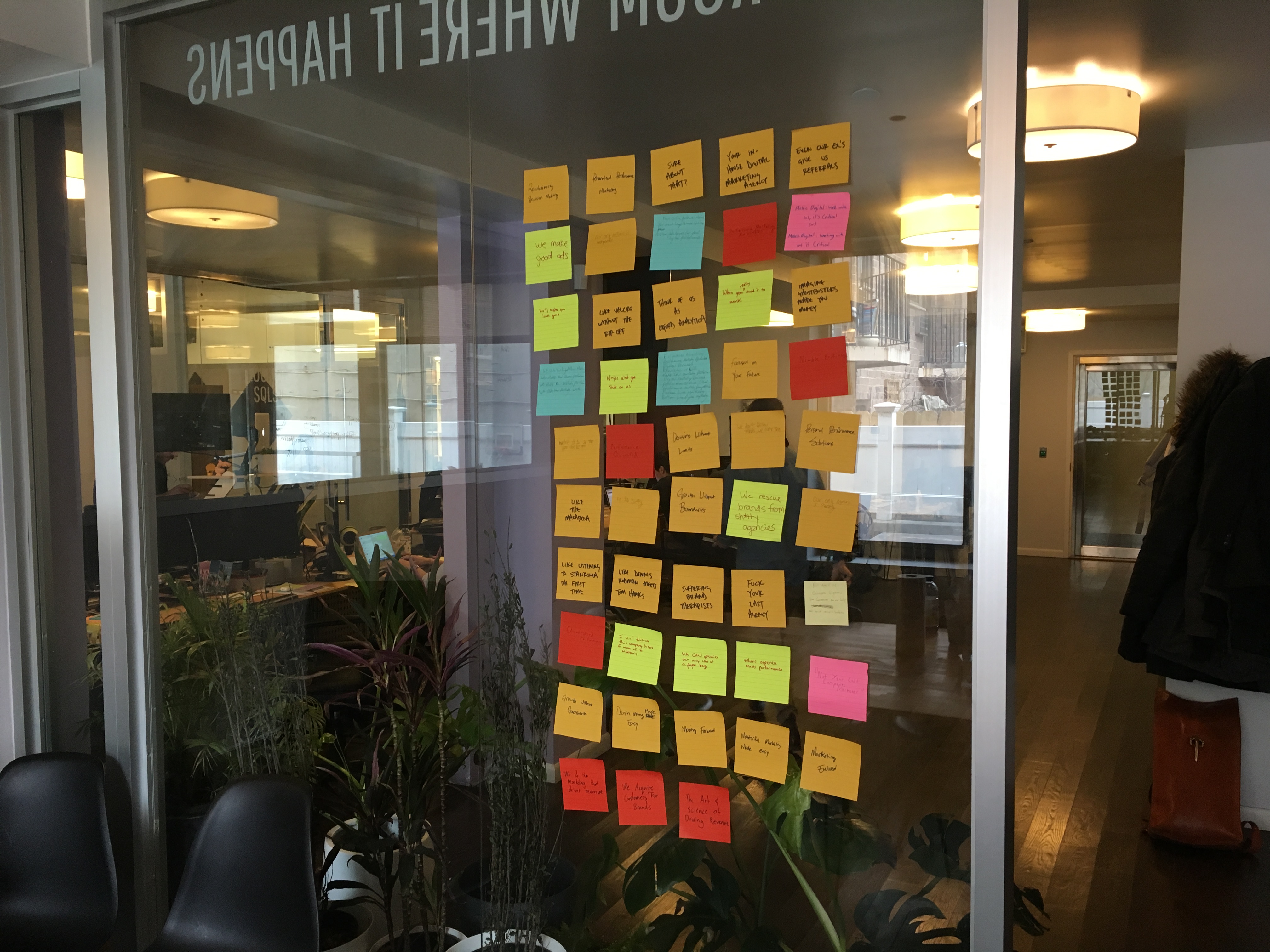 But anybody can come up with something interesting. Wit and creativity are a dime a dozen. In the digital marketing era, it's much more scientific. The most efficient path to effective creative is to come up with a few good variations, go out and test it, and let the numbers tell you what works best.
In performance marketing, the creative ideation process should be the intersection of creativity, grit, and curiosity. You should be both artist and scientist.
Metric prides itself in its diversity, staffed with team members who have backgrounds in marketing, art, mathematics and even biology. This diversity of experience allows us to use both sides of our brain to grow our clients' businesses.
Think of this way.
The old way: Research, think a lot, execute.


The new way: Think with agility, test a lot, optimize.
To build a culture of innovation and curiosity, consider these questions:
Are you giving your team the freedom to experiment with creative?
How are you integrating data science into the art of advertising?
What does an effective ad look like?
From a visual perspective, I believe the majority of your ads should look like ads. They shouldn't look just like any other organic content out there. Your ad should own the fact that it is an ad, and kick ass at it.

There's a level of cognitive dissonance that occurs in a user's head when they scroll their feed, reach an ad and think that it's an organic post, only to realize it's another random brand trying to push product.
Too many ads make the mistake of looking too passive overall, and they end up looking like organic content or giving an impression of self-indulgence. The user reads the ad and, in their mind, thinks, "Okay, so what?" The call to action doesn't have to use overly cliché & pushy sales language like, "Shop now!" It could be something as simple as, "Experience the (insert your USP here)."
From a language perspective, if the brand has a true unique selling proposition, then the fastest way to an effective ad is to use just that.
It's not enough to say that your product is "the best" or "high-quality," because everyone is saying that. If you don't have a true USP, then focus your ad copy on addressing a unique problem that your target customer faces.
Another copy question to ask:
What does this have to do with me?
Is your messaging tailored to the audience you're targeting? You shouldn't be running the same messaging against someone who's just learned about your brand, versus someone who has already been to your website.
If you're running your ads against a new, large audience, run with your unique selling proposition.
If you're running against people who've been to your site, show them relevant products and write copy that drives action.
But one thing that doesn't change, whether you run performance or traditional marketing, is that your ad has to look good. Modern images and graphics are so aesthetically rich that digital consumers have been spoiled for high quality creative.
Your goal is to get various formats of high-quality creative of your products (product, lifestyle, videos) and test every single one of them.
Don't let your passive ads get trapped in the friend zone with customers.

# # #
Ultimately, your ads should be winning business, not awards.
In the ever-evolving digital marketing landscape, make sure your performance marketing aims for conversions, not admiration.