What We Learned From Auditing 1,000+ Facebook & Adwords Accounts For Retail Brands
By Kevin Simonson, CEO of Metric Digital
We eat, sleep and breathe ads.

Our job is knowing which updates are coming out and when, and which changes to those algorithms and platforms matter most to brands.
That way, we can teach our clients how they can grow their awareness of, and adaptation to, marketplace changes in real time.
Since 2013, Metric Digital has audited over 1000 retail companies, both Fortune 500 brands and startups alike.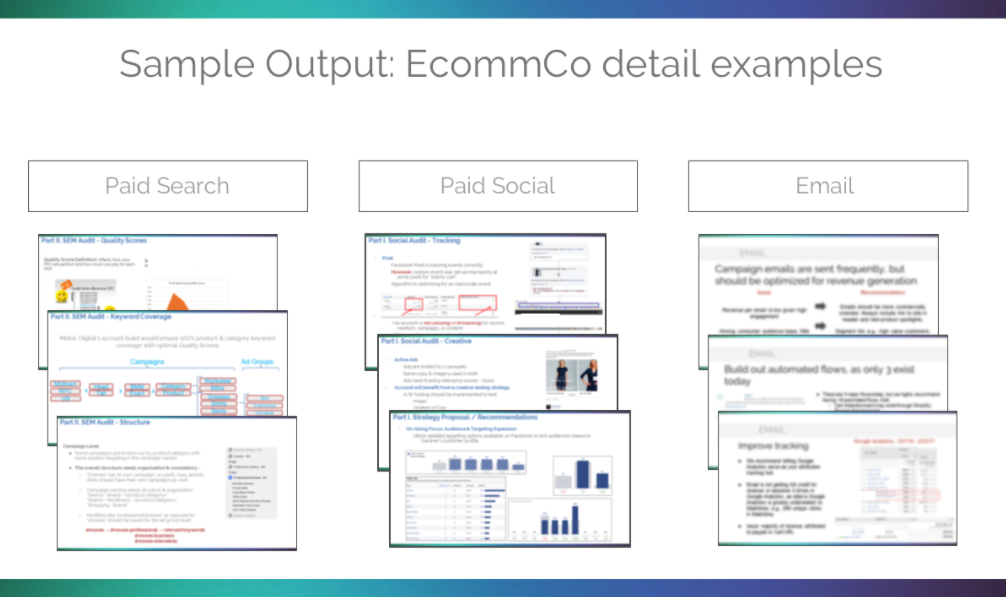 And we've noticed several key patterns.
Patterns that have the potential to change the way your business markets itself.
We would love to solve your marketing challenges. Contact us now and we will provide a free audit of your marketing efforts that shows what we will do to increase your revenue.
But before we dig into our findings, let's talk about how the accounts we audit break down. Typically, they fall into thirds:
⅓ are doing pretty well, but there's still room for improvement

⅓ are performing at an average level, but make mistakes

⅓ are chaotic, mishandled and potentially disastrous

Our marketing audits begin when we spend several hours going through a client's accounts. This gives us a preliminary understanding of what's being done, and more importantly, what's not being done.
It's exciting as hell.
We pore through a company's acquisition campaigns and offer an assessment of where we see any and all opportunities for improvement.
We explore their latest dashboards and reporting to note the highest and lowest performing channels.
We match up the different data sources and see how front-end engine reporting translates all the way through to their back end system.
Of course, no audit can perfectly predict company growth. Factors like cost savings and growth potential differ slightly for each company. However, the overriding patterns are consistent. Let's discuss several of those patterns, and how they affect your business today.
Under leveraged units
When brands don't use Product Catalog ads for Facebook, it's a wasted opportunity. This template is a surefire way to create a rich browsing experience for shoppers, encouraging greater product discovery and engagement. It's also the perfect tool for implementing dynamic retargeting. Not to mention, it allows you to connect an existing catalog from another platform, such as Google.
Our agency serves both growth stage ecommerce brands and Fortune 500 companies. And we've seen both types of clients can benefit from this opportunity. Recently, one of our clients, an ecommerce company, saw sales from Facebook remarketing increase by ~300% once implementing the Facebook Product Catalog. Their ROAS went from 600 to 3000%, and their CPA dropped from $45 to $9.
What marketing tools are you still not leveraging?
Lack of structure
Structuring, organizing, tracking, naming, are not sexy. But measuring results is. Making sales is. Growing company revenue is. And our client data from the past five years shows that structure can arguably make up 60 to 70 percent of the value that we provide.
Sadly, certain companies we audit won't have tracking set up properly. Their account won't be structured with the right naming conventions, which means it's difficult to tell what's working. But with proper organization of accounts, structure allows your company to export data, or simply take a glance at what you're doing. Either way, you immediately get the maximum amount of insights on how a particular element is performing. From a piece of creative, a custom audience or a bidding strategy, structure is the unsexy secret behind successful, growing brands.
Where are your marketing campaigns most disorganized?
Pixel is poorly executed
Tracking goes hand in hand with structure. It's the other side of the same coin. Even if your company has excellent organization, but your Facebook Pixel is poorly executed, you lose. You're not getting the data you need. Smart brands do everything it takes to make conversion tracking, optimization and remarketing easier. Pixel is the perfect tool for doing so. It's what helps you find new customers who are similar to your website visitors. And shockingly, many of the companies we audit don't have it set up.
Hired.com is one of our clients who saw success with this strategy. Metric Digital turned Facebook from a failed channel for paid user acquisition into an eight figure in spend channel that drove company growth more than any other paid channel. Without having their Pixel in order, that never would have happened.
Which tools are you using, but poorly executing?
Lack of ownership
Another pattern we've noticed in our company audits is around ownership. Specifically for brands that sell wholesale. Companies often allow their retailers to own the Google shopping results. Meaning, their products on a site like Bloomingdales show up, but not the products from their flagship domain.
We recently found a solution to this problem for one of our jewelry clients. Their brand was being undercut by third party resellers, who were lowering prices. And so, we started positioning their products in a way where buying through the brand was the same price or cheaper than the resellers. The company changed their bidding strategy, halting bidding on products with a higher price point. We also set custom labels that tiered by price, excluded skus, and so on. As a result, when customers were searching for general products, and were first introduced to the jewelry brand, all results were under a certain price. Whew!
How are you keeping third party sellers from undercutting your pricing?
Lack of separation
Companies also fail to separate out branded vs. non-branded on Google shopping.
Here's the challenge: Google doesn't make it easy to separate branded (e.g. terms including your company or products names) vs. non-branded terms in Google Shopping. As a result, most Google Shopping campaigns we see are blended between branded terms (which have high ROI) and non-branded terms (which have lower ROI).
Clients will then plow budget into these shopping campaigns, which appear to be performing well. However, often times an increase in budget will often go disproportionately to (often) poor performing non-branded terms, as you are capped on branded by the number of people searching for your products / brand.
What additional level of data would allow you to make smarter decisions in your performance marketing efforts?
Under optimization
The final pattern we've noticed is, some companies will be using conversion bidding, but unfortunately, they won't have enough events tracked to optimize.
Facebook, for example, insists that an ad set needs to generate 15-25 conversions per week (at minimum) to provide enough data to be successful. Now, this could be difficult to reach if your company has just started advertising, and your budget is small. In our audits, we will often see conversion bidding used on ad sets that are getting far less than this number of conversions.
Meaning, if your ad sets can't hit 25 purchases per week, you can try setting your conversion event to add-to-carts, or another event closer to the top of the funnel.
Is your company too far below a reasonable conversion rate to make your marketing tactics worthwhile?
# # #
Those are just a few of the lessons we've learned from auditing 1000+ retail companies, both Fortune 500 brands and startups alike.
But we want to learn more.
We would love to solve your marketing challenges. Contact us now and we will provide a free audit of your marketing efforts that shows what we will do to increase your revenue.
# # #
Kevin Simonson is the CEO of Metric Digital, a performance marketing agency in New York City that focuses on driving revenue and customers through online advertising; and consulting Private Equity and VC Firms on due diligence and digital marketing execution. Kevin has lectured on Facebook marketing at Harvard's Kennedy School and General Assembly. For speaking engagements or business opportunities, please email hello@metricdigital.com.