What Profitable Ecommerce Companies Know About Return On Advertising Spend
By Ryan Markman, Chief Revenue Officer at Metric Digital
Here's the answer to almost every question in marketing:

"Well, it depends."
During client calls, we certainly find ourselves saying that a lot. Especially when it comes to one critical, yet contentious metric: Return On Advertising Spend.
ROAS comes from the revenue a company makes from a particular ad divided, by the amount that the company spent on that ad. This is related to CPA (cost per action), which is ad spend divided by number of sales made from the ads.
Pretty straight forward, right?
Unfortunately, no brand can matter-of-factly know this number ahead of time. It's not a one-size-fits all metric.

Understanding the elusive metric of ROAS
Consider the spectrum of ecommerce brands. There are small, upstart, unproven, disruptive companies. Their product might be amazing, but they've only been in business for a year. Which means they're so early in their life cycle, there isn't enough historical data to make any hard predictions.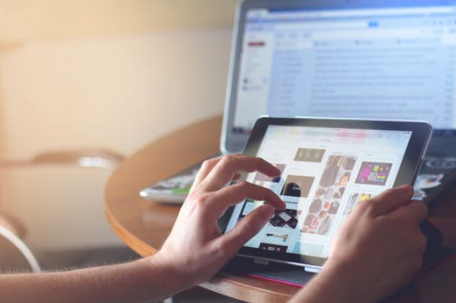 And so, instead of benchmarking, our agency focuses on opportunities for improvement, and shows them what that might look like in the future. We'll talk about some examples later.
On the other end of the spectrum, there are more established, successful brands. These companies have years and years of consumer data. And their revenue has been consistently surpassing six figures a month on a particular channel.
Which is awesome. That means we can now benchmark their return on ad spend more accurately, creating specific marketing strategies to elevate their business to the next level.
See how elusive ROAS is?
It all depends.
Not only on what kind of company you are, but what you want to become.
But there are myriad factors that will ultimately affect it. And because ROAS is typically based off first purchase, here are the three primary ones:
SCR (Site Conversion Rate). This is dictated partially by product market fit. If a brand doesn't have any proof yet that they're selling something people want to buy, it will be hard to achieve high return on ad spend. What does your SCR say about your brand?

AOV (Average Order Value). Growing revenue for ecommerce brands is based on Average Order Value of those sales. Whenever something isn't going right, we always evaluate that critical lever. What challenges might

your AOV uncover for you?

COT (Cost Of Traffic). Cost of your website traffic is determined by a variety of factors, as Facebook and Google determine traffic costs via an auction. The auction prices are based on how many other advertisers are targeting the same people as you, how relevant is your ad content is to the end user, and how much users engage with your ad content. Does your content match your target audience?
Now, there are also factors that affect the long-term impact of advertising. These are not as directly related to revenue as the two above, but they're certainly worth being aware of and measuring:
Lifetime Customer Value.

What is the probability of your customers making repeat purchases?



Net Promoter Score.

How willing are customers to recommend your products or services to others?



Order Variance.

How many different products do you sell to how many different customers?



Average Sales Cycle Length.

What's the length of time between first touch and closing a deal?



Inventory Management.

What if you unexpectedly sell out of your most popular product?



Technical Issues.

What if something breaks on your website and the shopping cart link leads to an error page?



As your company continues to grow, these questions are worth keeping top of mind.
Typical ROAS ramp-up over time
Now that we've talked about the "why" and "what" of ROAS, let's dig into the how, where and when...
Here at Metric Digital, we offer services that change the way businesses market themselves. And a key component to our approach is doing serious testing to establish benchmarks. Aligning goals that work for the individual business, not just appease conventional wisdom.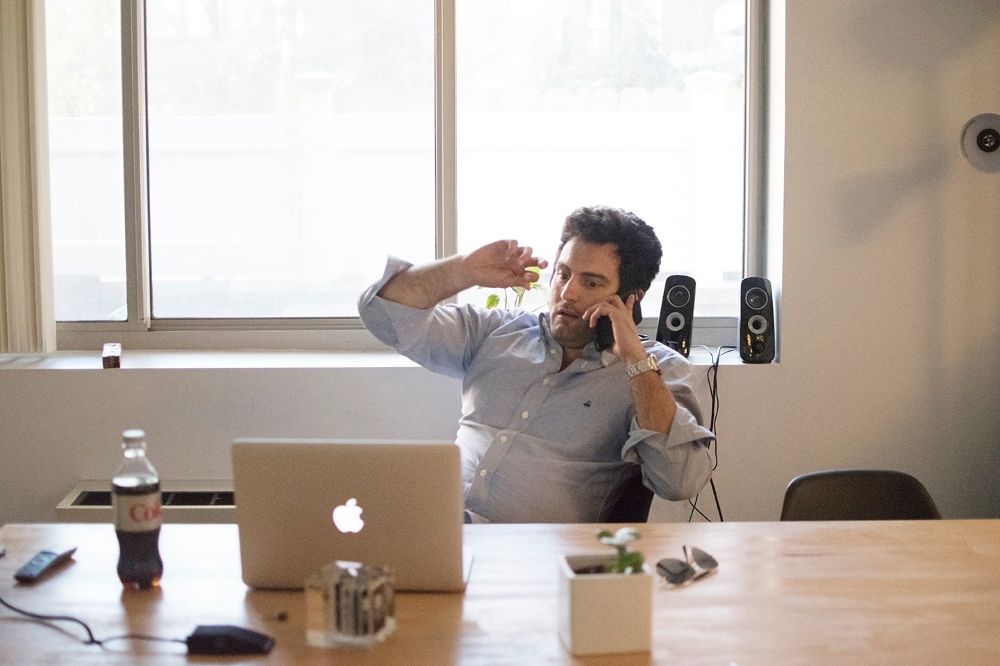 Consider a hypothetical example of an ecommerce company. This mirrors several clients we have brought on board over the years.
Let's say we discovered that their brand had some historical spend, but poor results of 40% ROAS.
Considering our experience and track record with brands like this, we'd be confident that we could do significantly better. And our first 45 days of testing would give us much more insight into how much better, how quickly.
Our recommendation would be as follows:
Given the low sales to date, we would focus on proving out the model and establishing benchmarks for paid advertising performance. Let's aim for a ROAS or customer acquisition cost goal that works financially for your business, knowing that it will take some time and optimization to get there. For example, a common practice for subscription companies is to set the CPA goal equal to 2 months of revenue; expecting that the vast majority of customers will stay on for more than 2 months.
Not sure how to set your CPA goal?
Keep reading, our advice is in the next section...
Of course, results like this typically doesn't happen overnight. Or over week. Or even over month. Effective marketing works because it drips.
Here's a screenshot from an actual dashboard for another one of our clients. They were essentially starting from zero with paid advertising when we began working with them.
This is what a successful ramp-up looked like for them: (numbers are ROAS)

Are you willing to be a little patient for a lot of return?

Driving significant results for ecommerce brands
Your next question is probably: Can this approach work to drive revenue for different brands in different verticals? Absolutely.
In the past several years, Metric has been able to drive consistent 250%-400%+ blended ROAS for many ecomm brands of all different shapes and sizes.
Consider Amour Vert, a women's apparel company. We grew their ROAS from 430% to 720%, while dramatically increasing spend and monthly sales. They gained a +290% return on ad spend.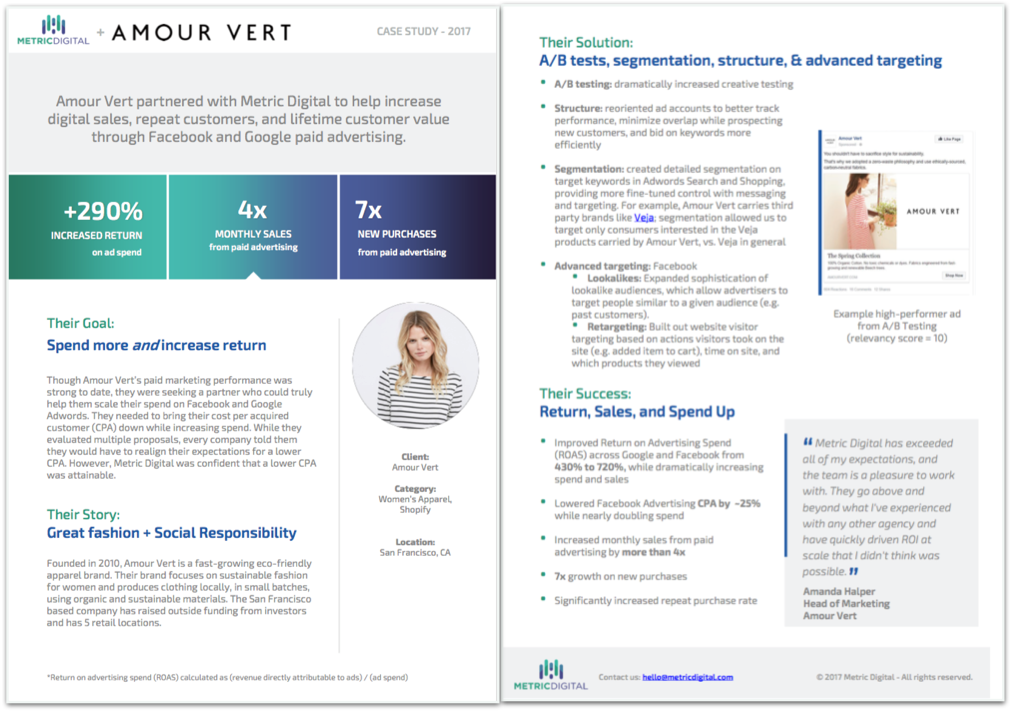 This, among many others Like Canada Goose and NatureBox, helped us identify several concrete strategies that you can use to establish benchmarks.
Not sure what your CPA or ROAS benchmark should be?
Typically, we recommend that clients start with the breakeven point. In other words, how much could you spend per new customer and "break-even" on that sale? For example:
Your average order value is $100

Your average cost of goods sold is $50, so your average gross margin is $50

Your initial CPA target should be $50. Theoretically, each additional sale that cost you less than $50 to generate, puts extra margin dollars in your bank account. And that's excluding long-term CLV, product recommendations, etc.

This translates to a ROAS target of 200% (generate $100 of revenue from each $50 of advertising spend)

Okay, two things to keep in mind here:
Know that you likely won't hit your benchmark out of the gate. It takes time to optimize towards success.

This doesn't need to be your goal forever. We completely understand. If you spend $50 to get $50 of gross margin, you don't have any money left to pay employees. Once you have a baseline, then you can increase your goals to match your business needs.

# # #
Remember, the three most important words in marketing are:
"Well, it depends."
In a business climate where certainty is not guaranteed, ecommerce companies need every advantage they can get to customize, analyze and capitalize on their company's unique value.
BONUS OFFER: Metric Digital has put together a ROI calculator that we use with our clients.

It's an ROI Analysis of Paid Advertising Improvements, where companies can plug in numbers that best reflect their unique business.

If you would like a downloadable copy of it, contact us here.