The Curiosity Chronicles, Issue 02: What's Working In Performance Marketing Right Now
By Claire Yi, Associate Digital Specialist, Metric Digital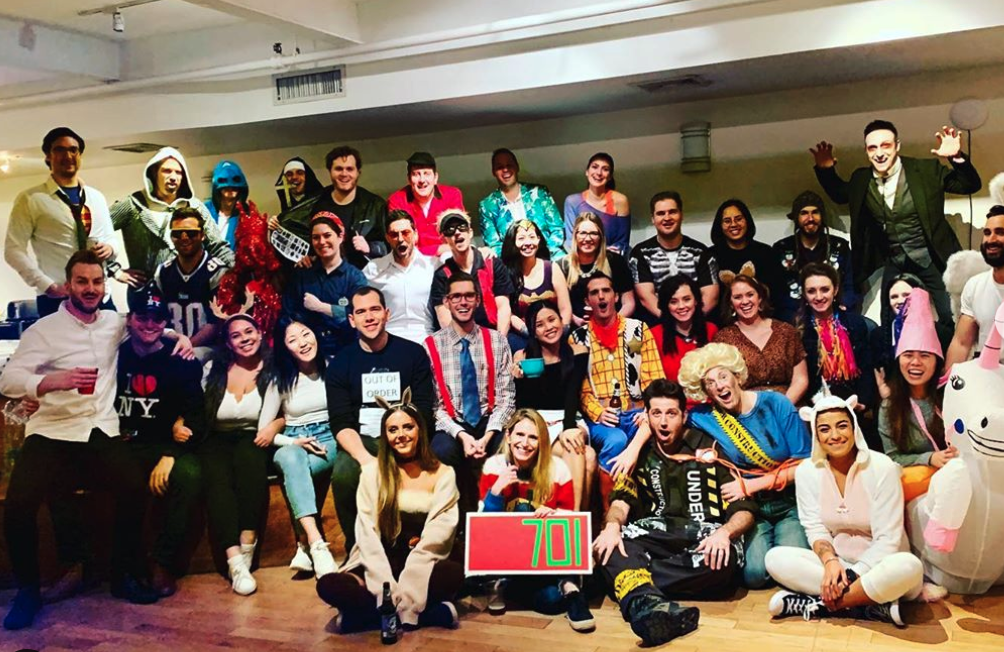 Throughout the month, our teams participate in knowledge sharing sessions.
Together, team members gather to solve client performance issues as well as share successful tests and performance wins. We kick off each meeting by going around the room to offer up our challenges so that we can brainstorm and resolve our issues together, ultimately continuing to grow our internal knowledge base.
It's fast, fun, solution-oriented, and it gives us a chance to flex our curiosity muscles.
Click here if you missed September's Curiosity Chronicle!
What's working on Facebook?
First, remember to target men and women for gifting audiences. Pair with creative or copy focused on the holidays. For example, copy that reflects how easy holiday shopping can be with your product targeted towards men, as well as creative of women in normal settings that helps men envision their significant others. For one of our clients, Caraa, this is effective. One of the core value props is the functionality of a stylish bag in everyday settings to portray that they can be used throughout her normal day, and the creative reflects that: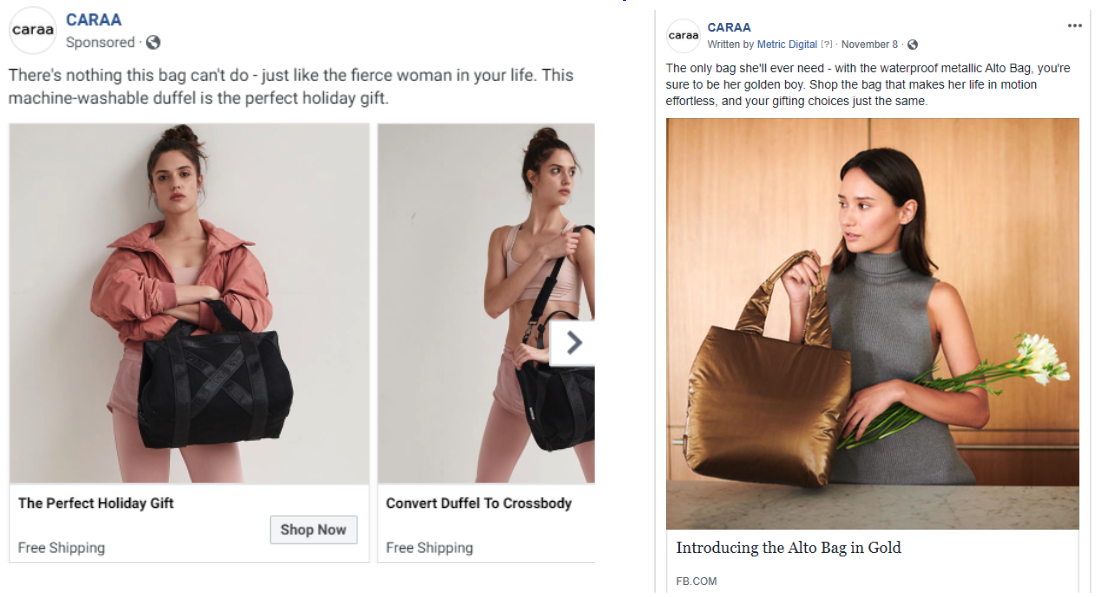 Second, try running an Add To Cart campaign in advance of BFCM and keep it running until it stops meeting your goals. Depending on your goals, setting up an ATC campaign about 30 days in advance of BFCM can be very effective.
If your goal is to scale, an ATC campaign can help expand your retargeting pool a month in advance and also drive a ton of traffic to your site at a cheaper cost. It's a lot cheaper for Facebook's algorithm to find users who are likely to ATC than to purchase. And come holiday, an ATC user is more likely to purchase especially when they're hit with ads from retargeting campaigns.
(For one client, we were able to drive 13,659 ATCs for $1.16 per ATC from November 1st to Christmas!)
If the goal is ROAS-driven, sometimes ATC campaigns themselves can drive strong ROAS, depending on the price point of your product. Think about it. For lower price point items, a person who is more likely to ATC looks most similar to a person who would actually purchase, so there's more of a chance that person will convert.
Third, make sure your creative has both eye-catching qualities as well as shows what value your product has, clearly and quickly. During BFCM and pre-Holiday, people are inundated with ads on Facebook from brands who are pushing more dollars behind their marketing and trying to prospect new customers. Also, with the first 3 seconds of a video being the most crucial, it is imperative to get your message across within that timeframe. We can't tell you how many times we saw ads from brands we were unfamiliar with that gave little indication as to what their value props were. Click here to see some BFCM ads that worked for 2019.
What's working on Google?
First, be on the lookout for the new Smart Shopping Customer Acquisition. This will provide some more visibility within Smart Shopping in terms of determining new vs. returning customers. Also, this will allow more control in terms of how you want the Smart Shopping campaign to optimize for new customers by assigning a dollar value to how much a new customer is worth to your business. The higher the value, the more it'll optimize.
Next, leverage smart bidding across shopping and non-brand efforts. If your product assortment is vast and your campaign structure reflects that, sometimes it is beneficial to defer to smart bidding strategies to help manage bidding efforts. However, make sure to make these smart bidding target changes week prior to BFCM since it will take time for Google's algorithm to learn. What's more, for Non-brand Search, if the goal is to maintain efficient ROAS, it is best to layer on a ROAS goal rather than use maximize conversions, especially during BFCM and holiday season. If not, with purchase intent so high during this time, it is likely that the algorithm will spend your set budget to maximize conversions without taking into consideration ROAS.
Third, build out gifting related campaigns and keywords to try to make your ads during BFCM as relevant as possible. Doing so can help lower CPCs during a time when search terms are more likely to include gifting-related terms.
Finally, maximize promo support by including ETAs, site links, callout extensions, and promo extensions. These are just some quick wins you can take by making sure your promos are visible on every channel possible on Google.
# # #
What other questions do you have about what's working or not work in performance marketing right now? Send us an email and we'd love to chat.

Until next month, keep your curiosity muscle flexed!
Get our tips straight to your inbox, and start driving revenue today.
Thanks!