Steal These Facebook/Instagram Ads To Drive Conversions For Your Ecommerce Brand (Part 1)
By Myles Pindus, Associate Digital Specialist, Metric Digital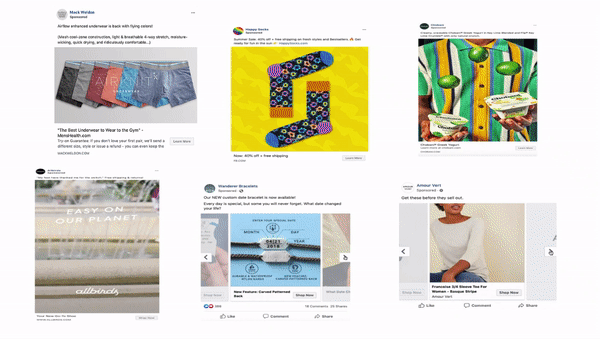 In our previous post, we broke down our company's proprietary advertising taxonomy, based on best practices in digital marketing.
Through that strategic framework, your brand learned how to create the right ads that meet the right customers at the right time and drive results.
As a follow up to that taxonomy, our next few posts are going to bridge the "what" and "why" of performance creative with the ever important "how."
Today, we'll dig into the first six (of twelve) categories of Ad Creative Type:
Lifestyle
Product
Features
Social Proof
Testimonial
Illustration
Please note: Each creative type has six format options: Static Image, Post Production Motion, Stop Motion Video, Filmed Video, Image Carousel, and Video Carousel, of which we'll share a variety.
Ready to drive conversions for your ecommerce brand? Steal these ads!
Lifestyle. Puts the product in the real world by using relevant imagery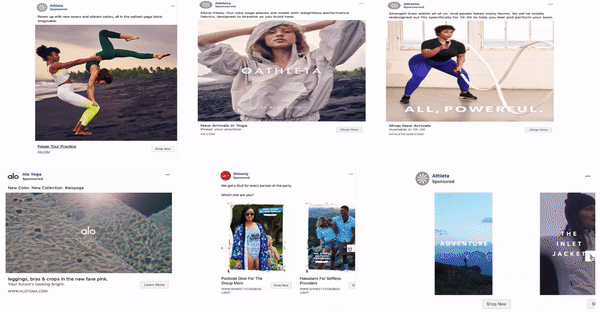 Ideal for top of the funnel brand awareness
Captures customers who might have skipped past your ad previously
Caters to the user preference of seeing the product in context
Looks more native than other ad types, which means people pay attention
Illustrates how you might feel while using the product, aka, aspirational
Works well for apparel, accessories and beauty brands, or any company which has frequent use. Remember, if a product is part of your daily/weekly routine, it can often become a part of a customer's identity.
Beware of trying to make your brand into a lifestyle brand just for the sake of it, as customers will notice and scroll past
Product . Employs creative shots of the product that make the product the central focus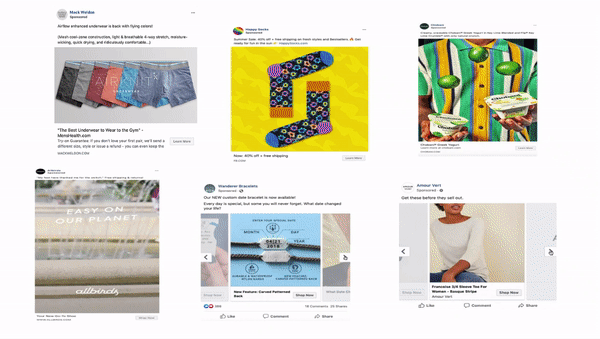 Ideal for a technical product with multiple attributes you want to get across
Works for performance products, allows you to callout value you wouldn't necessarily notice
Stop motion is the most straight forward format
Engages users, even if they're not paying close attention to the feed
Elevates the product to appear higher quality, more technical
Beware of overly technical ads that don't generate an emotional response to the brand. These ads can often appear less community and loyalty focused. And a danger is that a competitor (like a store brand) could easily copy the attributes at a lower price point
Features. Highlights certain scientific or tech features of a non-tech product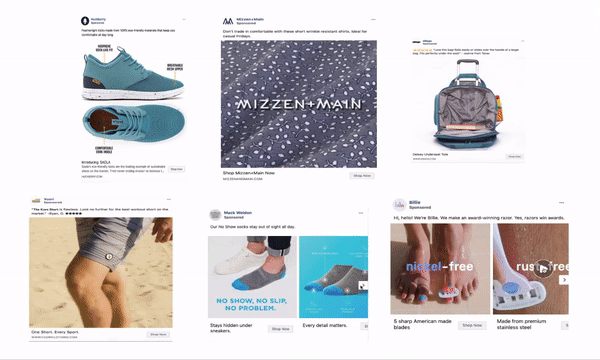 Helps your brand stand out in a crowded marketplace
Focuses on telling users what sets the product apart
Illustrates the attributes that static ads or simple copy can't do
Compress a lot of value in a short period of time
Assumes people won't read copy and only look at image, but still engages them
Enables marketers to spend less time on top copy
Takes the creative guess work of writing description and body copy
Social Proof. Incorporates the text of reviews or press mentions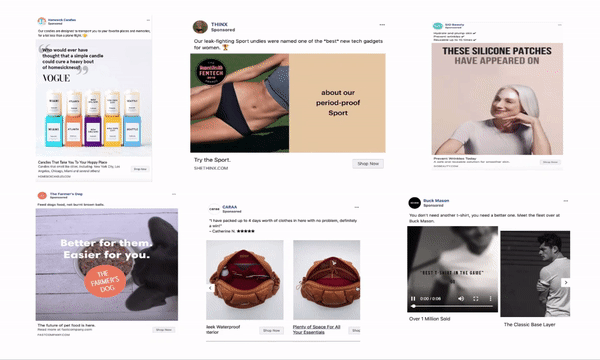 Overcomes one of the biggest barriers to someone buying product, aka, doubt. Press mentions imply expert approval and lend credibility
Proves that the product lives up to what people see on site
Assuages doubt in an Amazon-like way
Idea for DTC brands don't sell on Amazon and need to build trust quickly
Confirms to users that the company is not some suspicious fly by night brand, and feels safe for the payment process
Testimonial. Incorporates text from customer or user reviews or includes images or videos of customers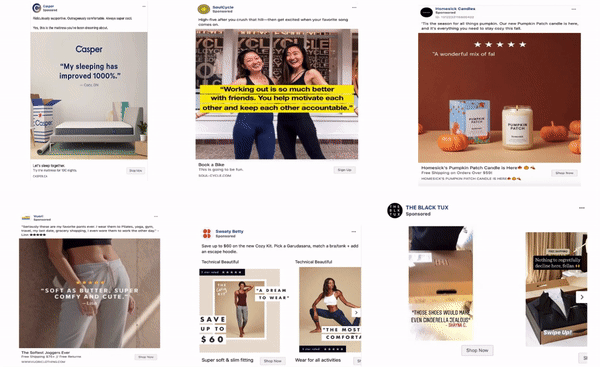 The more personal the examples, the better
Ask yourself: What relationship do you want to create between product and user? Choose your testimonial copy accordingly
Whereas social proof lends itself to the higher level popularity contest of public relations, testimonials are more human and personal. It feels akin to word of mouth, as if a friend is telling you how much she loves the product and that you should try it
Illustration. Uses illustrations (sometimes animated) to depict imagery, information, or statistics relevant to the product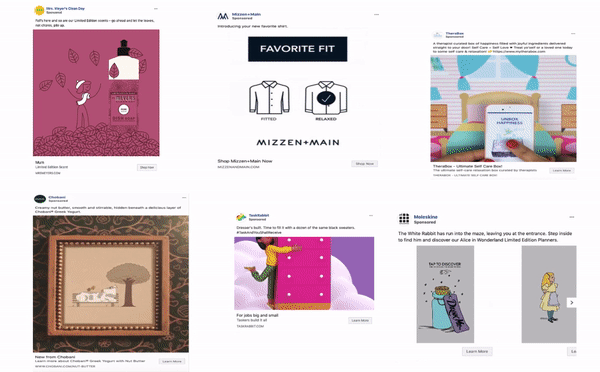 Fun, unexpected, attracts attention, stands out against other photo centric ads
Allows the brand to get as creative as possible with their ad concepts
Afford companies the chance to have their own unique characters, which gives the brand a voice and personality
Appears fanciful, exciting, approachable and human
Saves brands money, as the production needs are lower
Makes it easier to approach difficult topics and issues with animation
Feels like entertainment value. Users watch for fun and don't feel like they're being targeted and sold to
Stay tuned for our upcoming post where we evaluate Ad Creative Types 7-12.
Until then, if you have questions about Performance Creative, shoot us an email and we can talk more about growing your brand with paid media.
Get our tips straight to your inbox, and start driving revenue today.
Thanks!