ShipBob Webinar + Your Holiday Planning Email Marketing Questions Answered
By Cory Smith, Head of Email, Metric Digital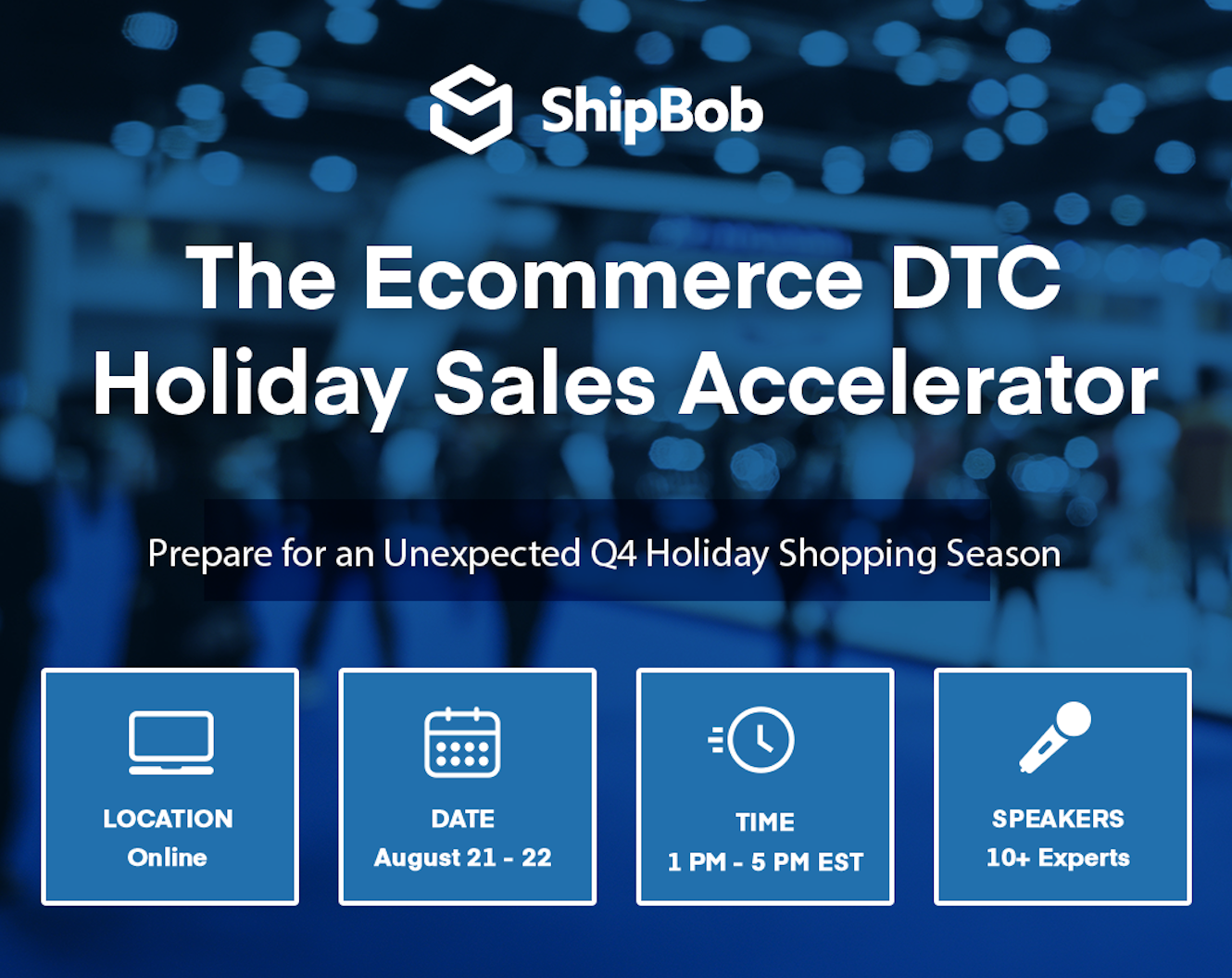 For those of you who missed my recent ShipBob webinar, co-hosted with Phil Greenwood from Klaviyo, it's not too late!
Now you can watch our presentation, Maximizing Holiday Revenue With the High-Performing DTC Email Marketing Campaigns along with tons of other great presentations to help your brand prepare for Q4.
Plus, here are a few bonus goodies:
During our talk, Phil referenced several powerful research points and insights from the Klaviyo BFCM Benchmark Report, which you can access here: Ecommerce Sales: How Relationship Building and Planning Impact BFCM
Second, we received many savvy questions from our audience members. Here are mine and Phil's answers to help you with your email marketing holiday planning strategy. Enjoy!
P.S. Thanks again to our pals at ShipBob for being an awesome partner. If you want to learn more about growing your ecommerce business with an amazing ecommerce fulfillment provider, connect with them today for a demo!
# # #
Should you put highest value customers on specific Q4 journeys?
If you know certain customers are high value, take the time to put together something a little different for them in your email campaigns. What you do is ultimately up to you, but here are several options to think about:
Consider sending offers to VIP customers first. There are two reasons to try this tactic. First, it gives them first crack at your product. And if you're going to potentially have any inventory issues, it's always smart to put your product in front of guaranteed buyers first. The second reason for this approach is, testing the waters. If you have a product that performed well in a campaign, lead with that. You'll increase your chances of conversion.
Creating a separate flow for VIP customers is also a useful idea. If you're going to try to show them special discounts, if that's a lever you can pull, go for it. Just be careful not to treat them too differently. Any strategy can backfire.
Ultimately, with high value customers, always make sure you're not leaving money on the table. When it comes to certain promotions, those individuals may not even need a discount or a push. Save that for less engaged or churn risk customers. If you don't have a sale, that's still okay. Anytime you can get customers to buy full price, take advantage of that opportunity to generate revenue.
What are tips on improving open and click rates now to ramp up by holidays?
First, test subject lines. Make sure you're testing different concepts against each other. If you're having a sale, test twenty percent off, versus nothing off. Use that learning for future. Be sure you aren't testing two different groups of words against each other. You'll know results, but not which one is actually better. The goal is to design a test that's going to help you improve your subject lines in the future.
Klaviyo offers a new feature called Send Time Optimization. It's a powerful tactic, because If you can send email at the time customers are most likely to open, that's the golden ticket. Because it means they're most likely to come to the campaign, click, come to your site, and buy. Nailing down time of day unlocks value.
In reference to open rate, it depends on the amount of email you send. How many campaigns are ideal? Some ecommerce brands want to send a few a day, some say they don't want to bother and only do one a week. Both are fine, depending on the company. You need to find the right balance for your customers.
My recommendation is, send as much as they're willing to receive. If you're doing a lot right now, scale back, and see if you get the same or better open rates with less, since customers are not feeling bothered. Think risk reward. You're taking some kind of risk every time you send email anyway, but if the payoff is good enough in terms of sales and customer lifetime value, then you took the right risk.
(If you missed our previous ShipBob webinar, How to Structure Paid Ad Campaigns to Maximize Customer Lifetime Value, you can still watch it here!)
Switching from open rate to click rate, let's talk about content. Are you featuring a product? What does your call to action look alike? Those pieces come first. From a design perspective, your emails absolutely need to look good on a phone. In the past I have designed on desktop, but sent the email out and it fell flat because it didn't look good on phone.
Metric's data shows that approximately 70% of our clients are seeing opens on their phones. Performing well on mobile device is critical for boosting click rate.
When designing your email, think of pyramid inverted. Using a wide message and narrowing down. Get the main thing you want them to see, devote the most energy to that, but by the end of email, try offering other things for people to click on. One design issue for ecommerce is, years ago, everyone had a nav bar at the top of their messages. Emails looked like websites. Now companies are doing that at the end of email with bigger buttons. The upside to this approach is, when customers scroll down, and if they didn't like what they saw, you can give them another option. If your email is all shirts, for example, put some links to pants and shoes at the end. It's a savvy opportunity to compel them to click through.
How do you track subject line testing?
Let's begin with the composition stage. When writing, adhere to concepts to categorize them. Write a dozen subject lines in the same concept and pit them against each other, rather than just groups of words.
Can't say this enough: Test ideas, not words. If you find the right one, you can populate and test more examples, rather than just a few words being different.
When testing, do some reverse engineering of the creative process:
What was the concept? How did we come up with it? How do we push people for it? Are you fitting different concepts, or writing two because you think you should?
Remember, don't test because it's the thing to do. It's great that companies are testing and have a methodology in place, but like anything, you can overdo it. For example, companies can get obsessed with using emojis in subject lines. It's a huge phenomenon among brands in the last year or two. You can try it, and it might work, but you also might find that it has a poor impact on your email marketing program.
You would definitely get a :( with the results.
More is not always better. Using emojis occasionally is okay, but every time can have a detrimental effect. First names for the same thing. Eventually it's going to lose its effect. It may do well for 1-2 times, but the 100th time, it won't work. Use caution.
As I always say, "Never trust an email marketer who's not a little bit paranoid."
What about animated gifs in emails?
The larger strategy here is adding motion to email. That's typically a useful tactic. It certainly depends on your brand, audience, and so on. But if it resonates, by all means, try it. One idea to recommend is, when you make a gif, it doesn't have to be difficult. Stringing products together into a carousel that flips through is a simple way to feature lots of products in a low level of real estate. It's an easy way to your dip creative toes into motion if you don't have design resources. Gifs serve a function from a purchase perspective, as they not only show products being used, but also show a wide variety of products.
What other thoughts do you have on content testing?
Landing pages are critical. Email does its job when people click to the page. But you need to test if the page is doing its job as well. If you're thinking about redesigning, do that work now before the holiday and test it. New doesn't mean better. Try a/b testing and see if it works.
One approach we've seen garner success with our DTC clients is sending an email formatted as a letter from the company founder. Try testing the personal testimonial from an executive or even a customer. It's worth testing to see if drives traffic to site.
Coming up with testing ideas can be tough, so my recommendation is, come up with lots of ideas. Ask your team if it's really going to cause someone to convert. And if you don't know, test it. Automation testing is smart to do during the summer. Lots of customers will be receiving those during and after the holiday, so you'll want to make sure it's buttoned up. The last thing you want to do is get to the office on January 2nd and send outdated auto campaigns to people who were going to buy from you, but now are not.
Any final thoughts on holiday planning?
Plan ahead. Take a couple hours. Any decision you can make with a piece of data is good. When you're putting a plan together, learn from the past. Go into holiday knowing answers to as many questions as you can. But also look to the future. Leverage third party data sources for what's happening on the site, and look at other channel engagement that's positive and take it into your planning. Owning that part of your journey on social and other channels they are engaging with you.
Thanks again to Phil from Klaviyo and the team from ShipBob!