Performance Marketing For Fintech Startups, Part 1: Capitalizing On The Evolving Digital Landscape
By Lauren Nadan, VP of Performance Marketing, Metric Digital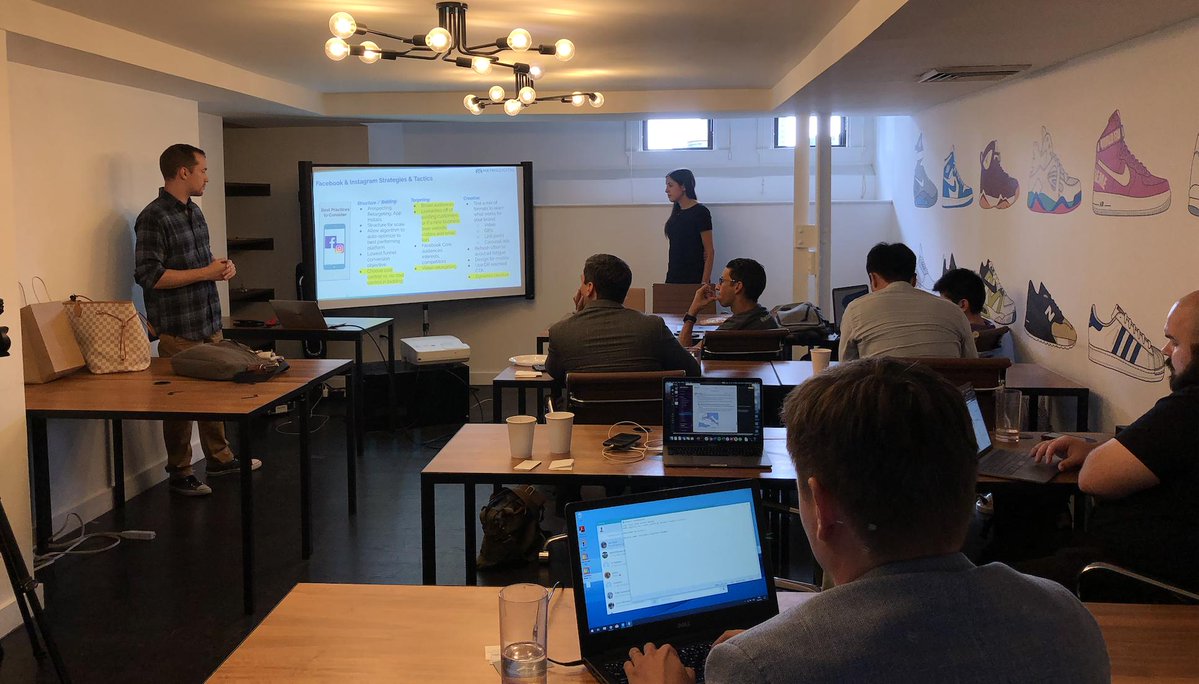 Deloitte's report on fintech by the numbers shows compelling evidence that we have entered a new phase in the evolution of the financial technology sector:
"The thinking of many financial institutions has evolved, and they are now seeking more to team up with these emerging technology companies to gain access to new markets and products, greater efficiencies, or just the secret sauce that makes innovation go."
Maybe fintech really is the future of banking.
As such, growth stage companies in that space will need to elevate their promotional efforts to stand out above the competition, acquire new customers and win long term loyalty.
Before leading performance marketing at Metric Digital, I spent my career working on marketing teams of financial services companies. From American Express to BlackRock to Betterment, marketing in the financial services vertical has been my world.
That's why it was such a privilege to team up with my coworker Steve Geick and present our performance marketing best practices at the local chapter of VentureOut.
If you're not familiar with this awesome organization, VentureOut supports top technology companies from around the world on their mission to access new markets, raise capital, and scale. With their support along with Tribeca Early Stage Partners, our group had an inspiring and educational discussion about customer acquisition for fintech brands in the digital age.
Funneling your marketing energies intelligently
Let's begin with the number one question every startup, fintech or otherwise, needs to answer. How does an individual becomes a customer? The classic marketing funnel comes to mind, which you have no doubt seen ad nausea. The funnel walks you through this journey, so let's break it down into two parts.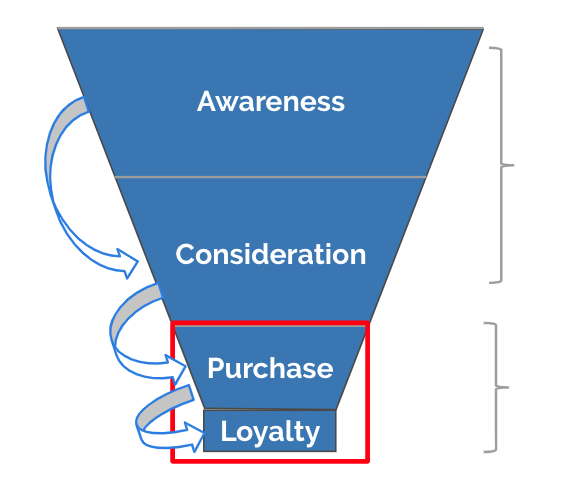 At the top of the funnel, we begin with awareness and consideration. As your company seeks to grow through these efforts, you want people to do the following:
Hear about your brand
Consider whether they want your product or service
Think about if they're going to purchase from you
Decide why they choose you over your competitors
Typically in this upper funnel stage, your company's efforts will be solely geared towards brand marketing, which includes longer term initiatives to build up the brand image and value of your company and its products. Examples might include sponsoring a major sporting event, doing a subway takeover, paid ads geared toward an awareness objective, and so on.
Ultimately, the goal is reaching customers, not necessarily driving conversions.
Moving down the funnel into the bottom half, your company transitions into purchases and loyalty. As a performance marketing agency, this is where we focus the bulk of our client work. It's where our expertise lies, and it's also where growth stage companies tend to focus the bulk of their time, driving conversions for their business. In our experience, it's the most measurable and actionable, and the best way to see the quickest returns on advertising spend.
To be clear, all companies do need both brand marketing and direct response marketing. If you want to capitalize on today's digital marketing technology, the two halves of the funnel need to be working in tandem. Most fintech brands, especially when they're first starting out, will focus investment on direct response marketing, and then eventually fold in brand marketing as they start to scale and ramp up their marketing investment. We recommend you do the same.
With that primer in mind, let's move into a few more performance marketing foundations to help your company scale.
The three types of marketing every company needs
When we're thinking about marketing for financial services companies, there are three different approaches. It's important that you treat all of them as part of your marketing mix.
Paid media. Any external marketing effort that involves paid placements. This includes display, social, search, video, affiliate, direct mail, out of home and television, to name a few.
Owned media. That means it's your unique property that you can control. This includes building your ecommerce website and having an organic social and search presence.
Earned Media. Any publicity gained through promotional efforts over which you have indirect control. This includes public relations, organic influencers, online reviews, and a host of other content.
Your company needs to consider the integration of all three of these elements. We can't iterate this enough. Many new businesses will launch and assume they can simply gain conversions organically through unpaid efforts such as word of mouth. While this is certainly possible, it's important to buttress your organic tactics with paid so you're not leaving potential customers on the table.
For a lot of the brands we work with, and particularly in the fintech space, on average we see over 50% of conversions coming from paid channels. This use case speaks highly to the fact that it's important to have both paid and organic efforts in your marketing.
Of course, marketing didn't always operate this way. Let's review where this business discipline has come from, so we can predict where we're going, and help your company be one of the first ones to get there.
The evolution of the marketing landscape
Cbinsights global fintech report showed that Q2'19 fintech funding topped $8.3B, and funding to VC-backed fintech companies grew 24% QoQ in Q2'19 and neared previously quarterly funding highs. There's no doubt that it's an emerging market, but the question is, how does this industry trend align with digital marketing trends, and how can your company capitalize on that?
My belief is, the reason you see successful fintech brands making huge gains in the last few years is because they understand how the landscape of marketing has changed over the past fifty years. Let's think of it as a timeline.
The Era Of Selling. Originally, advertising was conducted in this way. Think of it like putting a sign outside of a shop and talking about why you have the highest quality products. In short, tell customers why you're the best.
The Era of Time and Space. If you were running an agency twenty or thirty years ago, clients would be bragging about getting in front of the most eyeballs, getting the best time slots possible, accessing customers, etc.
The Era of Hyper Targeting. Once the digital revolution commenced, brands could choose among demographic, geographic and psychographic qualities, and target people based on them. If you wanted to get in front of thirty year old New York males who are interested in finance, you could. And that's the whole purpose of marketing. To target down to exactly who we want to reach.
PLEASE NOTE: These goals still remain important. The principles of each era have remained key as we move forward. Don't abandon each of them, just know that they don't become the primary factor anymore. Selling to somebody and simply telling them why you're the best fintech company matters, but it's no longer the most important thing. Finding the perfect time of day and website to run your ads still matters, but it's no longer the most important thing.
It's hard to predict, especially when it comes to the future
So what comes next? What is the new era we're moving into? There is no doubt in our mind: The Era of Machine Learning. The main benefit is, machine learning enables consumers to see content that's most relevant to them and it means that brands can show ads to consumers who are most likely to convert.
What this new era enables fintech companies to do is rely on the latest and greatest artificial intelligence technology to get your ads in front of the optimal user with the optimal message, and at the best possible time to get that conversion.
The reason performance marketing is an extremely crucial investment at this stage of a fintech company's lifecycle is because conversions yield more conversions. It's a snowball effect. If you don't get those initial conversions, you have no way of training the system to optimize effectively to the audiences that you want to hit.
There's a balance, though. Relying on those algorithms and structuring your marketing mix in a way that mirrors that and encourages the user through the funnel, you can ultimately yield more customer acquisition, revenue and growth. But you can't take out the human element of performance marketing.
For example, if you're targeting suboptimal people and you do manage to get some of them to be financial services customers, that's great, except that they aren't truly representative of the best customers you want to have for long term loyalty. Those people are simply representative of whatever your initial theory was of who you thought you should be targeting. Imagine building a lookalike audience on Facebook that doesn't actually reflect your best customers, rather, reflects the initial manual desk work you were doing. Not good for business growth. Be careful you're not over relying on the algorithm and have a trusted marketing partner, or in house team, to keep your marketing on point.
Leveraging new tools to grow
But here's what is good for startups. Let's talk about machine learning for fintech in today's ad environment. Namely, conversion optimization on Facebook and Google.
If you choose an audience, say, men ages 18 to 34 who are interested in finance; and you come up with a budget, say, $1000 per day on that ad set, here's exactly what's happening behind the scenes.
Facebook is not evenly allocating the budget to just any of those people throughout the day. What it's doing is optimizing the delivery of your ads according to who converts. And it's taking that data and user behavior data to learn. Even ad copy now is taking advantage of machine learning.
Before, all of your ads would include a picture, image, video, headlines and other copy, and you were in control of which text suited each image. But now you're feeding the algorithm a big list of content and relying on machine learning to mix and match. It tries to put the best possible combination in front of the optimal potential buyer.
That's exactly how your fintech company will grow.
In our client work with startups, not only do we see engagement metrics like click through rate, likes, comments and shares go up, but we see conversion going up as well. After that click happens based on the fact that you put a finely tuned ad for that user, you find out a more motivated user ends up on the website or app, and it makes them more likely to take action.
On Facebook, this strategy is where an increasing number of marketers are spending their time. It fits right into the traditional marketing mix today, and it really gives brands fuel for the fire. Whereas with Google, you're sitting back and waiting for search terms and queries to come in. With this approach, you're really pushing your message out there in a more prospecting oriented way.
Has your head exploded yet? Don't worry, it's early. We're just getting started in our series about performance marketing for fintech startups.
Thanks to our partners at VentureOut and Tribeca Early Stage Partners, we're going to continue our discussion about customer acquisition in the digital age in the coming weeks.
Now that you've learned how to capitalize on the evolving digital landscape, next we'll dive into several specific strategies and tactics for helping your brand access new markets with greater efficiency, and scaling your brand to success.