Key Takeaways From Jen Rubio's Online Course On Building A Direct To Consumer Brand (Plus How It Relates to Performance Marketing)
By Scott Ginsberg, Head of Content, Metric Digital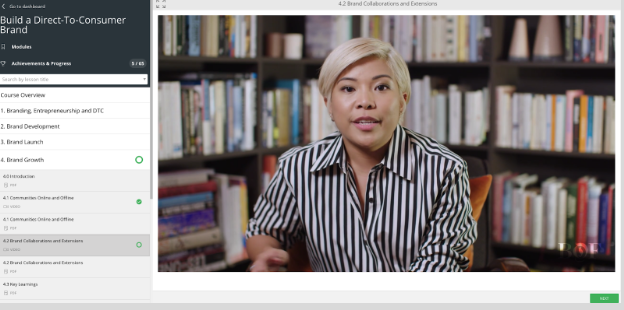 "Competitors can replicate your product overnight, but they can't replicate your brand or community."
Wise words from Jen Rubio, cofounder and Chief Brand Officer of Away, who recently launched an online course called Build a Direct to Consumer Brand via The Business of Fashion.
Enrolling in this program was a no brainer for us. As an agency that powers marketing for some of the best, most disruptive direct to consumer brands, our curiosity could not contain itself!
In fact, we were just blogging about Away's paid ads the other day.
What were the key takeaways from the course? How do those lessons apply to our world of performance marketing? And how can you apply those strategies to help your brand replicate the same kind of success?
And away we go...
Solve real problems, create emotional connections
Away focuses on solving every problem in the travel experience. Rubio went behind the scenes of Away's market research process. Their team asked key questions that gave the company greater context about people's behavior when they were traveling.
Two questions stood out to me as powerful customer experience moments:
What happens when people land?

What's the first thing they do at their hotel room?

Answers to these questions led to surprising and delighting features like Away's built in washable laundry bag and phone charger on the suitcase.

Proof positive that:
Your company doesn't have to create an outwardly innovative product, but you do have to tailor the customer experience to create an emotional connection with your brand.
Smart companies that are winning the performance marketing game always execute on this principle in their ad creative. Every message reminds customers of how their brand solves real, urgent, pervasive and expensive problems. Jen had another astute insight about how customers don't even have to think about what your business model is, they just have to have an intangible sense of getting a better end experience.
This is the same underlying principle that helps drive strong digital advertising engagement, clickthrough rates and ultimately performance. Pair messaging that creates an emotional connection with the right target audience.
One way to reinforce this principle into your performance marketing is by building an overarching campaign narrative. When we build and manage ad campaigns for our clients, remember this question from our Senior Digital Strategist, Steve Geick:
Who is the kind of person that, if they had this product, and you took it away from them, would feel some sort of pain?
By putting yourself in the shoes of someone whose life would be improved by your product, you reinforce the emotional connection between the user and the brand.
Jen summarized it perfectly in her opening lecture:
"You can disrupt a very old industry by creating a brand that people connect to."
Your company is no different than Away, in that you have the potential solve problems, make connections and disrupt your industry.
For more strategies on using performance marketing to advance the way people relate to your brand, download our Exclusive Content, The 2018 Ad Creative Playbook.
Treat your product as table stakes
Before starting Away, Jen built her career as a branding, creative, and social media expert, redefining how customers and brands connect. One insight she teaches in the beginning of her masterclass is:

"In the modern business landscape, competitors from thousands of miles away can replicate your product overnight."
Yikes! And yet, these lightning fast copycats have become a huge nuisance for many startup founders.
Reminds me of the heartbreaking story about the entrepreneur who spent a year designing the product that was going make him rich, a smartphone case that unfolds into a selfie stick. The man drew up prototypes, secured funding from his family and launched a crowdfunding campaign.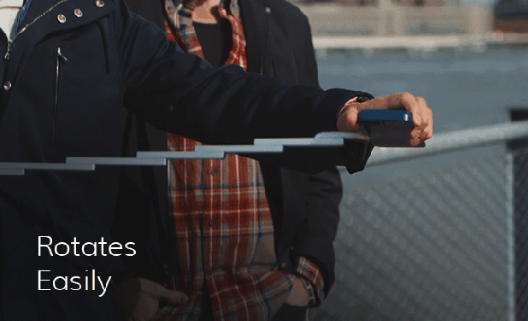 But then, a week before his product hit the market, he saw it on sale on a wholesale website across the globe. Same exact design, but one fourth of the price. They beat him to the punch.
As a retail company, there are legal measures you can take to insure against this type of counterfeiting. Signing non disclosure agreements, securing patents and trademarks, doing your due diligence, even jumping on a plane to get eyes on the ground in another marketplace. These strategies are helpful in protecting your company from this ruthless copycat culture, although most intellectual property lawyers say that enforcement of the problem is essentially impossible.
However, just because imitation is the sincerest form of flattery, doesn't mean it has to be a one way ticket to bankruptcy. Not if you're strategic from day one.
Jen shares the following caveat for protecting your company:
"Treat your product as table stakes and treat the brand and its relationship to the customer as your differentiator."
What does this have to do with performance marketing? Everything.
Look around. Disruptor brands are taking share from established brands, in part because they're better at user experience, as personified by their ads. As such, your advertising should highlight your brand and build and reinforce your relationship with the customer via responding to comments and using what you have learned from great customer service and customer insights to inform your copy and how you sell your product.
Here a few ad creative recommendations we give to our clients. Think about how they might elevate your campaigns above and beyond the simple product offering:
Build a shared document with top customer reviews. Incorporate user names, picture and text from those reviews to express the relationship customers have with your brand.

Use any user generated video content whenever possible to show how your brand fits into people's lives. Then make sure a/b test the top reviews on top performing images, and optimize accordingly

In short, show proof of your relationship with the customer. With these tips, your relationship may soon become your brand differentiator.
Connecting online marketing to offline purchasing
Jen's curriculum also devoted several modules to the important connection between ecommerce and brick and mortar retail. If you have successfully launched a direct to consumer brand, moving from the introduction stage into the growth stage, you're in a position to expand at the right moments and levels.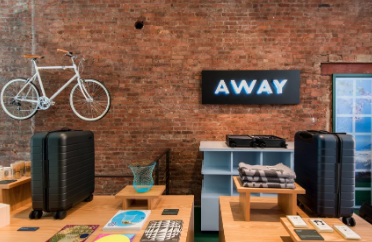 Away's story of expanding through brick and mortar retail stores and experiential events was delightful to hear. Jen told stories that brought a smile to my face about using physical locations as unique opportunities to connect with consumers and stakeholders on an emotional and sensory level.
But brick and mortar wasn't their obvious strategy from beginning. Away was testing pop ups, but mostly for brand awareness and excitement. They didn't expect stores to offer an unmet need. However, what their experiment proved was that stores help customers who needed to touch and feel their products before a purpose. Brick and mortar added level of context that online didn't provide. It also enabled community focused events.
My favorite quotation of the entire masterclass came next:
"Our stores are profitable billboards. They build community around brand and provide education around product."
There's only one problem. How do you measure that?
This is the part where many direct to consumer brands, either digital, physical or both, fall off. We're in a business landscape where merchants are struggling to connect efforts to measurable offline results. And so, this brick and mortar issue brings up a critical question from a performance marketing standpoint:
How can brands actually track their offline purchases and optimize marketing spend towards it?
Here are a few different approaches you might try:
Facebook has enabled merchants to build, run and optimize their Facebook advertising campaign for many years. Recently, new technology has emerged to help merchants report on in-store offline conversations that result from that.
Here's how it works: The program sends information from POS system back to Facebook and reports on it. Anybody on Shopify POS can be plugged in very quickly, and they can gain a real time sense of how their online advertising efforts are converting in-store.
You can DIY this strategy yourself. Facebook's website has many resources for offline conversion measurement capabilities. You can track when transactions occur in your physical business location and other offline channels after people see or engage with your Facebook ads. You can follow their guides to set up your API or partner integration, business manager setup and manage and measure data.
But if you don't have the development budget or in-house capabilities to execute this program yourself, we recommend partnering with a performance marketing agency to execute that program for you. Otherwise you might be wasting money and tracking your advertising efforts incorrectly.
Contact us if you'd like to learn more about Metric Digital's new Online Conversion Tracking technology.
All in all, Jen Rubio's course, brought to you by The Business of Fashion, was inspiring, instructive and engaging. If your brand is considering growing your direct to consumer channel, or at least learning how to think like disruptive brands who are, it's absolutely worth your money and time.
And if you strategically apply her lessons and insights through the lens of result oriented marketing, your brand might just run "away" with all the customers.