Is Your Marketing Agency Mad Libbing Their Pitch?
By Kevin Simonson, CEO/Co-Founder, Metric Digital
Most marketing agencies lie about what they do and how they do it.
Traditional Advertising. Digital Advertising. Design. Development. Public relations. Brand Management. Influencer Marketing.
If your agency does everything, they're probably not very good at anything.
Let's say you're at the dentist and he says:
"You know, I can also do colonoscopies, right? It'll save you some time and money if I do both."
But you probably wouldn't go for that.
Marketing is smarter than it used to be. It requires specialists to do the best work.
At this point, you can Mad Lib in agency pitch: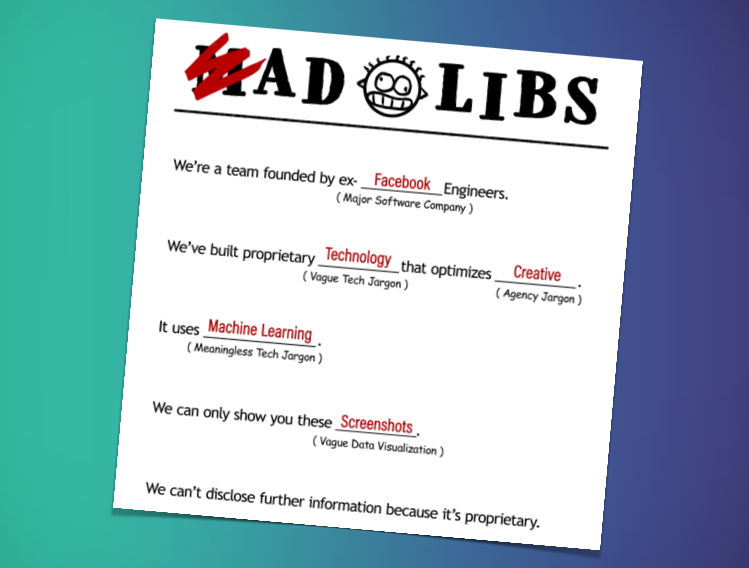 This is the exact false narrative that big and small agencies are using today. It's nothing but smoke and mirrors.
How do we know so much about this? We wrote the book on it.
It is possible to work a digital marketing agency that makes you money, shows you what they're doing and how they're doing it. Here at Metric Digital, we're incentivized to grow your business and give you full transparency into what we do and how we do it. Because it's the right thing to do when you're on the same team.
Our firm drives growth for some of the fastest growing, most disruptive brands. Maybe you've heard of them. We also help more established brands from all over the world to grow like disruptors.
We love what we do. We're growing like a rocket ship because we're making our clients money and being honest with them. And we'd love to do the same for you.
Contact us to find out how we can grow your revenue like we've done for so many other brands.
Get our tips straight to your inbox, and start driving revenue today.
Thanks!