I've Spent Over $100,000,000 on Facebook and Instagram Ad, And Here's What I've Learned
By Kevin Simonson, CEO/Co-Founder, Metric Digital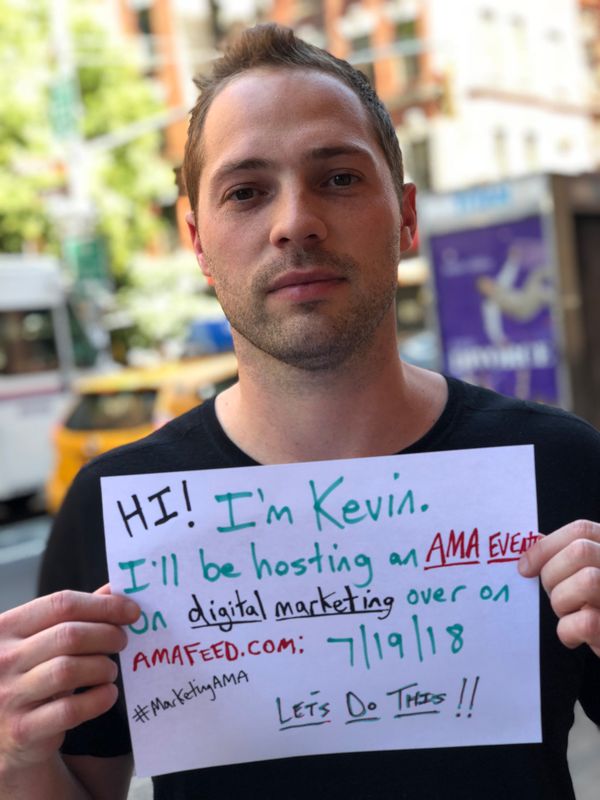 Companies big and small want answers for creating profit driven growth.
In many cases, that goal can be accomplished through digital marketing.
During our recent Ask Me Anything on the Marketing AMA Feed, I had the chance to answer questions about paid social, paid search, email marketing, SEO, data, modern ad agencies, martech, transparency and other topics to help brands get where they need to be.
Here's a collection of lessons learned from spending $100,000,000 on Facebook and Instagram ads for startups and Fortune 500 companies. Thanks to everyone for their questions!
Do you have any Facebook Ads tips for local businesses?
If you're a local business with limited resources, be involved with your community in a way that makes people want to promote you on social media. Consider taking their content and then amplifying it (with real money) on social media. Trust that this generosity will be paid back in the long term. If I owned a local business, that's what I would do.
How do you recommend a small business gets started? What's the best advice you can offer for a coaching firm to market & expand their reach?
First, take inventory on resources and build a paid strategy around those resources. Next, read a lot. Watch a lot of videos. Ask a lot of questions. Also, I think people going to work for somebody who is good at what they want to be good at is massively underrated.
The best advice for coaching businesses to market and expand their reach is simple. Be good at the coaching businesses, and then be proactive in asking clients to talk about you. Don't let them keep you a secret.
Having a good product, good or service will always be the best marketing in a world where it's increasingly easy to talk to each other. And paid social media marketing is an effective way to amplify and grow that work.
What are the parallels between stand up comedy and paid media?
Other than I've done both and had people laugh at my results?
I think taking the idea of something and transforming it into a social object that communicates a meaningful point is inherent in both channels. It means being creative, clever, and having strong writing and verbal skills.
Persistence and competitive drive helps too.
Who has been your favorite client to work with?
I've had different favorite clients to work with over the years for different reasons.
The team, the founder and the point of contact is always a factor. The theme is, they ask good questions of me and our agency, and they genuinely care about their business. It's always fun to work with smart people who care.
Selfishly, I prefer the clients that have given me a good amount of autonomy to test new things. Doing the best you can with constraints is less fun in itself, but it's still an exciting challenge.
Here's a short list from over the years:
Petflow
Naturebox
Hired.com
Mack Weldon
Bonobos
Hint (Water)
Elite Daily w/ Boston Consulting Group
What's the biggest mistake you see brands make when they use Instagram ad placements (Stories + feed)? How would you fix it?
This is good tactical/strategic question. In general, the problem is using too many exclusions. Which means their account structure isn't set up how it should be set up.
I'm going to make some assumptions that the spend is in a good place (account is mature) and the structure of campaigns/ad sets/ads isn't bad. Instagram's user id's talk to each other across placements (Stories + feed), and having them open should help you hit a conversion goal. Just make sure you have a good structure in place and that your creative works cross placements.
How did you become a Shopify expert? What kind of experiences did you have managing this platform and what are its benefits for businesses?
In terms of being good marketers for our clients on Shopify, we used our experiential knowledge from non Shopify platforms and then modified it for Shopify, using Shopify's (great) resources (apps, API, etc) to make us move fast and efficiently to execute our strategies.
Why should companies or brands choose Metric Digital to manage their paid media? What makes your brand unique and better than others in the market?
Really good question that almost always comes up when a brand is thinking about working with us. As it should.
The short answer is, we have a proven track record of driving insanely good results.
For example, we've help get several brands into Facebook's Disruptor's group, which is only for the fastest growing D2C brands in the world. I think we're the smallest agency (20 people) with the most companies in that group.
I love performance marketing in part because the numbers don't lie. There is context around them, but when we spend $300K a month for a brand and they make $1,000,000 in sales through FB/IG that month, we did a good job.
We've taken this experiential knowledge, learnings from actually doing this, and built Metric Digital on it.
People we work with on the brand side and their investors have been amazingly kind in telling other people what we have done for them, in terms of results. That has helped our business grow substantially.
Which marketing channels make the most sense to start with? Would it make sense to start with a lot of marketing channels at once or just a select few? Why?
This is a smart question and the answer depends on your unique business and its resources.
Look, Kylie Jenner didn't need paid ads. She had a massive following on Instagram. That's an extreme, but people usually have relationships they can leverage (bloggers, publishers, friends, family with various connections/skills, etc.). Those connections can help inform their strategy so they create value responsibly.
Once you take inventory of all your resources, that dictates what you should do and how you should do it, with respect to marketing channels.
What is one of the biggest marketing myths about social media that you have seen perpetuated?
The myth that people and companies are as skilled at marketing as they think they are. In fact, most who do this vastly overestimate how good they are at it.
I heard a friend say recently, "But isn't everybody a digital marketer now?"
Not true! Just because somebody can cook scrambled eggs doesn't make them David Chang.
There's way too much bad content about what works (and how it works) from people lacking experiential knowledge and greater context on how paid social marketing works.
But if you ask good questions, you can figure out who is actually skilled at this.
Do you spend more of your time reporting on data trends, or analyzing them and making business recommendations?
Analyzing them, by far. All reporting should be automated to save time. And then the value comes from analyzing that data, coming up with a strategy, building your strategy, executing it, and then repeating.
What was your biggest marketing victory? Why? What were the key contributors to this success?
That's a tough one. There are different types of wins.
Getting Hired.com from $0 to 8 figures in spend by profitably using different kinds of strategies was a big win. We had just started our agency and it was scary to put my (lack of) money where my mouth was, then prove I was good at digital marketing, and win.
Fortunately, they allowed me to use memes to drive conversions so that was fun.
What is the biggest pitfall you see big companies make with their FB/IG ads?
For big brands and in the Fortune 5000, the problem is not having transparency into their account. This is also the case with startups and smaller companies, but more so with companies that work with large agencies.
I think this is unethical and a recipe for disaster.
We see it all the time and it's sad, but it's also useful because we're helping brands get out of this situation and own what they should own, i.e., their data.
The next pitfall is not having tracking and the technical elements in place to measure what they need to measure to hit their goals, and properly execute the strategies. For example, when the catalog feed does not properly fire the viewed event, dynamic retargeting won't work.
From a tactical perspective, not having a structure that accounts for the maturity of the business, amount of ad spend, or the business operations with respect to paid marketing in general. You see this when gurus say, "You should do this strategy!" But it's not a blanket solution for everybody.
For a new company that has never run paid social campaigns, how much would you budget to establish CAC benchmarks? At a high level, how would you structure this from an audience + messaging standpoint?
Depends on your business goals. I would ask several questions based on those goals.
First, say you want to acquire customers profitably. We don't know AOV and there isn't a customer lifetime value.
We would need to figure out some statistical reach by cohort and back out a budget that fits our account structure. Minimum conversions going through an ad set would be a part of determining that budget.
From there, come up with at least one A/B test on copy and images and build that in at the ad level.
Then you would launch in a way that helps you understand what was not working so that you could pause, take that money and shift it to what is working, and new test further. For brands launching, it's not a pure performance marketing budget as much as it is research and development.
# # #

Appreciate everyone's questions, and hope I was able to shed light on best practices to use digital marketing to create profit driven growth.