How to Scale Your Small Ecommerce Business Without Causing Inventory Nightmares
By Scott Ginsberg, Head of Content, Metric Digital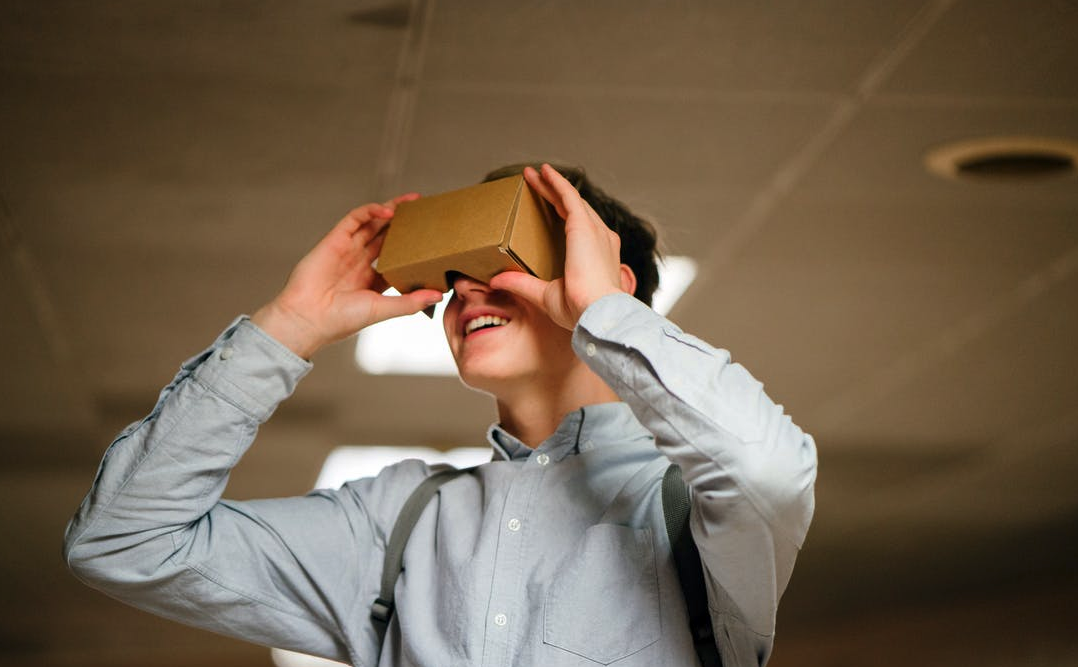 As a small ecommerce brand, you dream of scaling.
But if your business suddenly explodes, you might have serious inventory nightmares.
What's a merchant to do? How can small retail companies scale without getting caught in the trap of fulfillment?
In this post, we'd like to offer a collection of strategies and tactics to make sure your store is growing in a way that's sustainable. We've also tapped into our network of ecommerce experts, both sellers, marketers and tech vendors alike, for additional insights and tips.
Let's dig in!

1. Be aggressive about preventing inventory nightmares.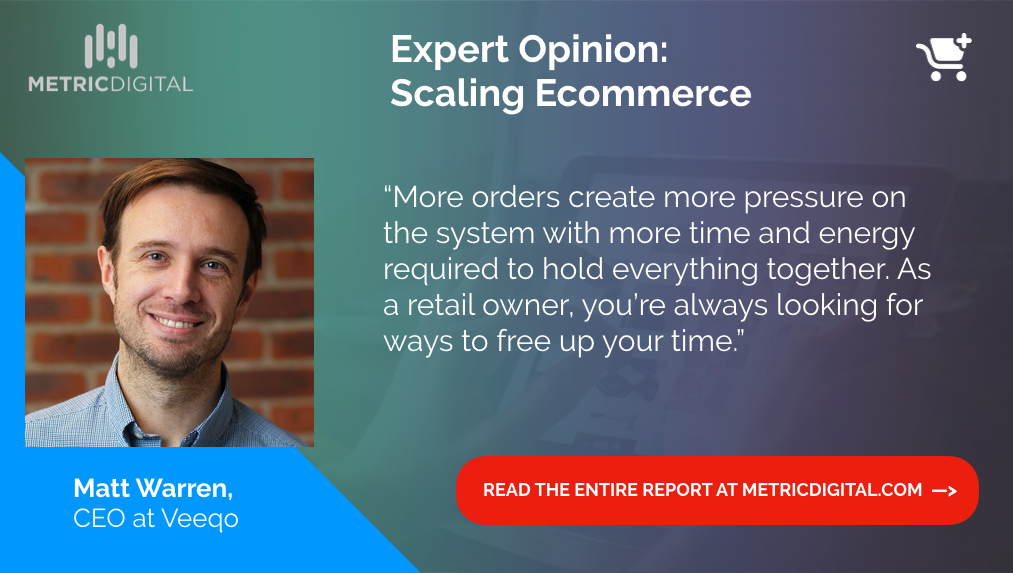 Matt Warren is the CEO or Veeqo, a platform for retailers to automate their entire back office. He recommends being aggressive about preventing inventory nightmares.

First, set strict reorder points. Assure that each product in your store indicates the exact moment you will need to order new stock. To do so, take into account the typical lead time of getting a new purchase order to your fulfillment center, booked in and ready for sale. And make sure you don't eat into the emergency safety stock you've already reserved for sudden changes in demand.
Consider the following formula for each product:
Reorder point = (Lead time in days x Average daily sales volume) + Safety stock
Once an item hits that exact level of inventory, it's time to place a new order to ensure it's back in stock and ready for sale so you can keep satisfying demand.
Remember, as a retail owner, you're always looking for ways to free up your time. That way you can double down on customer acquisition programs that create growth revenue.
BOTTOM LINE: More orders per day is a beautiful thing, but it also creates more pressure on the system with more time and energy required to hold everything together.
2. Run a test to take an indication of interest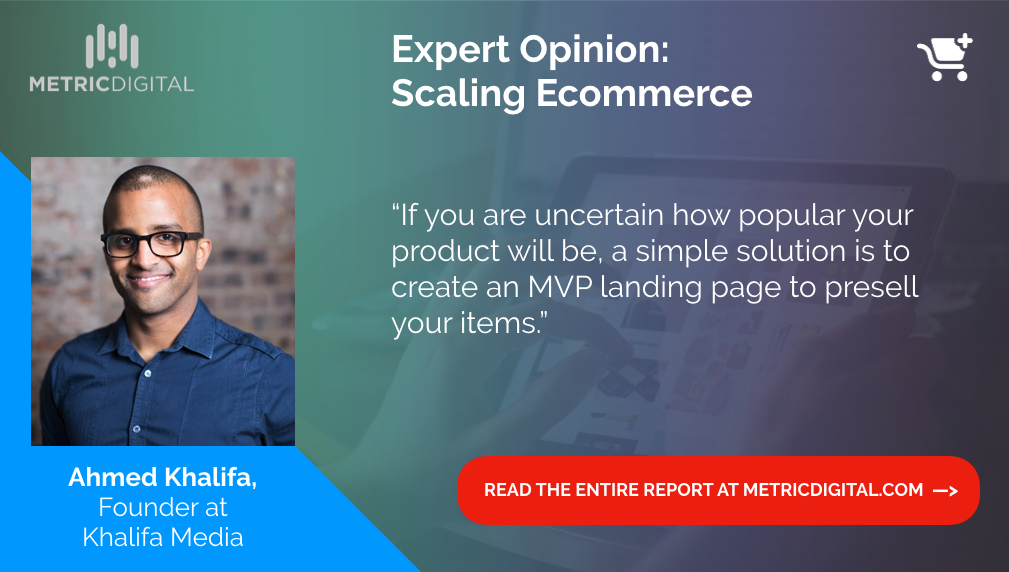 Ahmed Khalifa is the Founder of Khalifa Media, a Wordpress agency that specializes in conversion rate optimization. His recommendation for smaller or new brands is to run a test to take an indication of interest.
If you are uncertain how popular your product will be, or you just want to get an idea of how popular it will be so that you can plan ahead your inventory, a simple solution is to create an MVP landing page to presell your items.
This is similar to the concept of preordering, where customers get a chance to be on the list ahead of everyone else, before an item goes on sale to the generic public. This tactic gives you an accurate picture of how much inventory you need to have in preparation, not just for those who preordered, but also for future potential sales based on popularity.
Find a way to make your offering extra special for the customers, like exclusive early bird prices on a time limit to encourage your customers to make that purchase. What's more, try creating an email marketing campaign specifically for those customers, not only to notify them that their products are on their way, but also for future campaigns too.
BOTTOM LINE: If you can't test it, you can't measure it; and if you can't measure it, you can't optimize it.
3. Focus your products, unfreeze your assets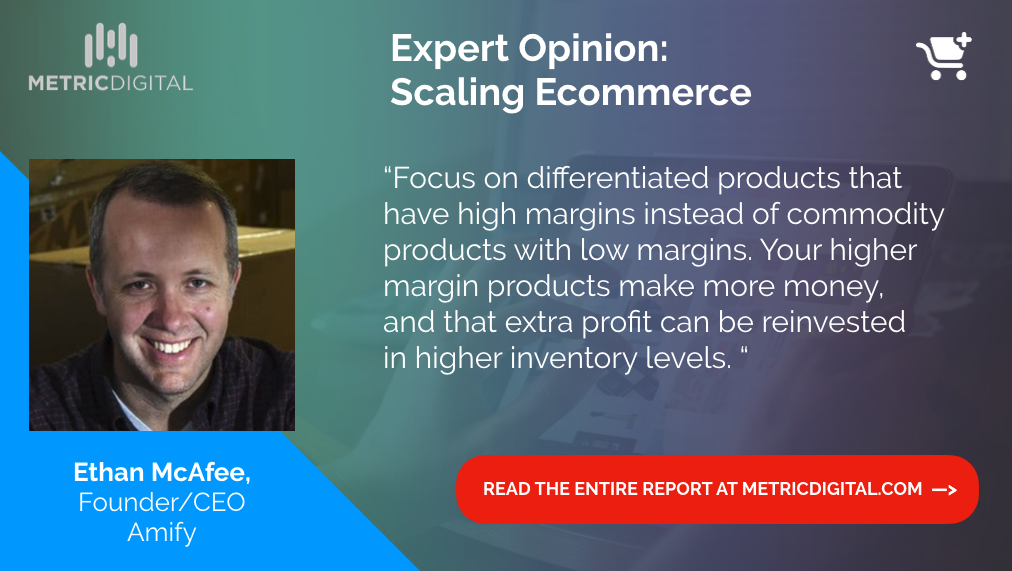 Ethan McAfee is the Founder and CEO, of Amify, an Amazon Optimization and Fulfillment Company. His recommendation for scaling ecommerce businesses without inventory nightmares is to focus your products and unfreeze your assets.
As ecommerce companies grow, they require more inventory in order to fulfill their increasing orders. All things being equal, if you double your sales, you need twice the inventory. The only problem is, inventory costs cash, and small businesses usually don't have a lot of that.
The first strategy is to focus on differentiated products that have high margins, instead of commodity products with low margins. Higher margin products make more money, that extra profit can be reinvested in higher inventory levels.
Another tip is to keep your inventory levels as low as possible, while still maintaining products in stock. The mistake would be for a brand to buy an entire year's worth of inventory or more. This freezes your assets. It ties up cash for a long period of time and also increases the inventory risk if that product does not ultimately sell. Whereas a lower inventory level carries lower risk.
BOTTOM LINE: Don't jeopardize your entire company by over investing in the wrong assets. Use customer data to manage inventory strategically.
4. Manage your inventory before it manages you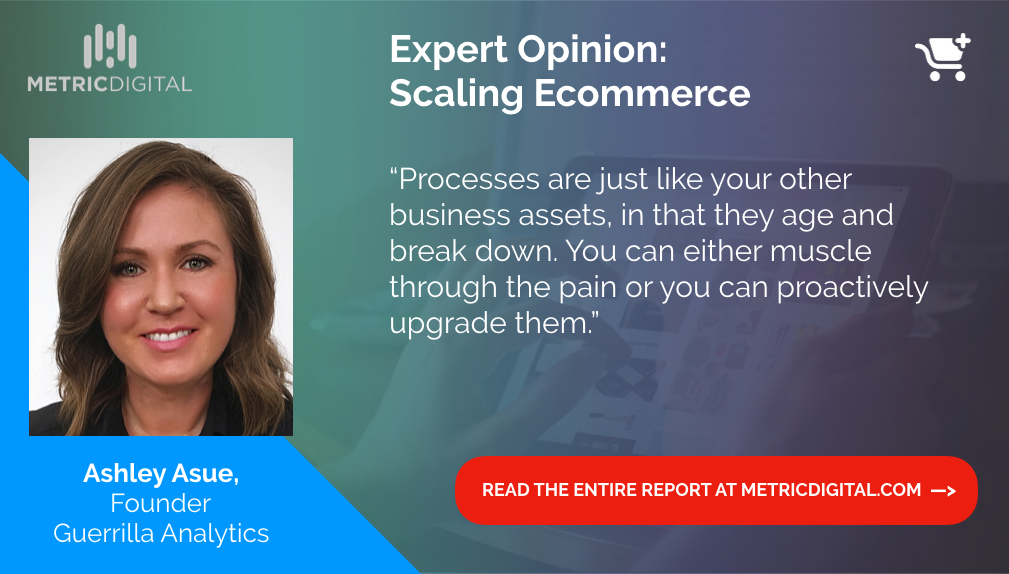 Ashley Asue is the Founder of Guerrilla Analytics, a private equity and Amazon consulting firm. She recommends a process driven approach.

Processes are just like your other business assets, in that they age and break down. You can either muscle through the pain or you can proactively upgrade them.
For example, inventory is just cash tied up. If you want to free up cash so you can scale, focus on turning inventory into cash faster. Think of it as your kpi for inventory turns. Find out which SKUs have a higher profit, which ones are slow moving versus fast moving, and which ones aren't priced high enough.
By tracking every product with a robust inventory management process, it frees you up to do more complex analysis to improve profitability. Once you codify your business's process, you'll gain a greater understanding of which approach works best for you. And then as you scale, you can evaluate which inventory management technology will best support your growth.
BOTTOM LINE: Don't just find the data, operationalize it. Turn insights into processes and systems that eliminate unnecessary decision making and free up your mind and time.
5. Turn inventory problems into sales & marketing differentiators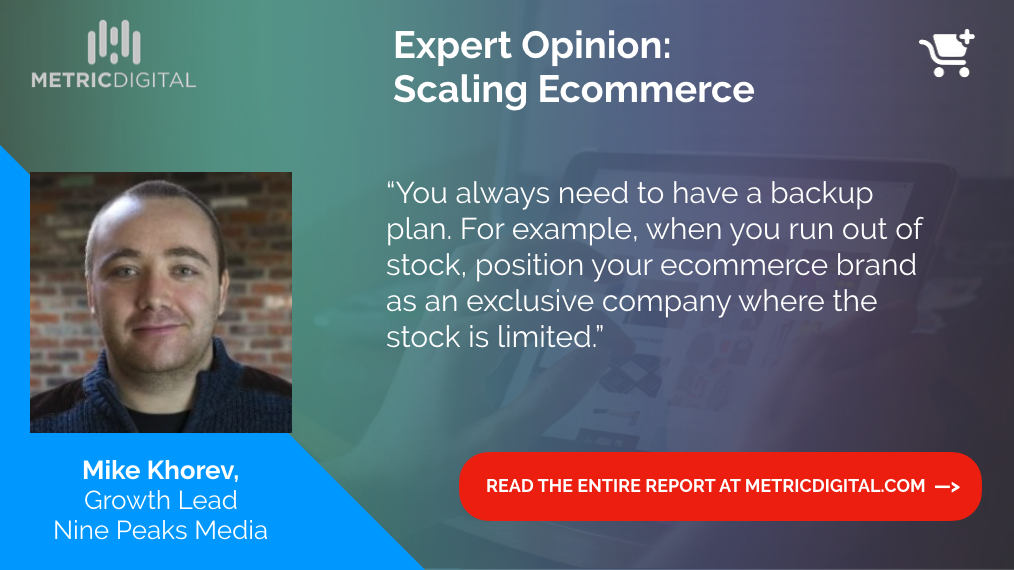 Mike Khorev is a Growth Lead at Nine Peaks Media, a digital marketing company. He turns lemons into lemonade by taking a strategic branding approach to scaling without inventory problems.
You always need to have a backup plan. For example, when you run out of stock, position your ecommerce brand as an exclusive company where the stock is limited. Doing so builds more scarcity into your business model, which triggers psychological buying motivation. As for communicating with customers, alert them that you'll fulfill their order the moment inventory comes in.
Another tactic is to offer discounts or coupons to apologize for the inconvenience of being out of stock. Incentivizing purchases is a strong motivator. Let's say you have products that are not currently available. You can sell them as pre orders. Depending on what ecommerce platform you sell on, you should be able to create an alternate product template and edit your payment settings.
BOTTOM LINE: Instead of apologizing to your customers and telling them you can't fulfill their order, leverage being sold out as a service and branding moment.
6. Operationalize your post sale customer service process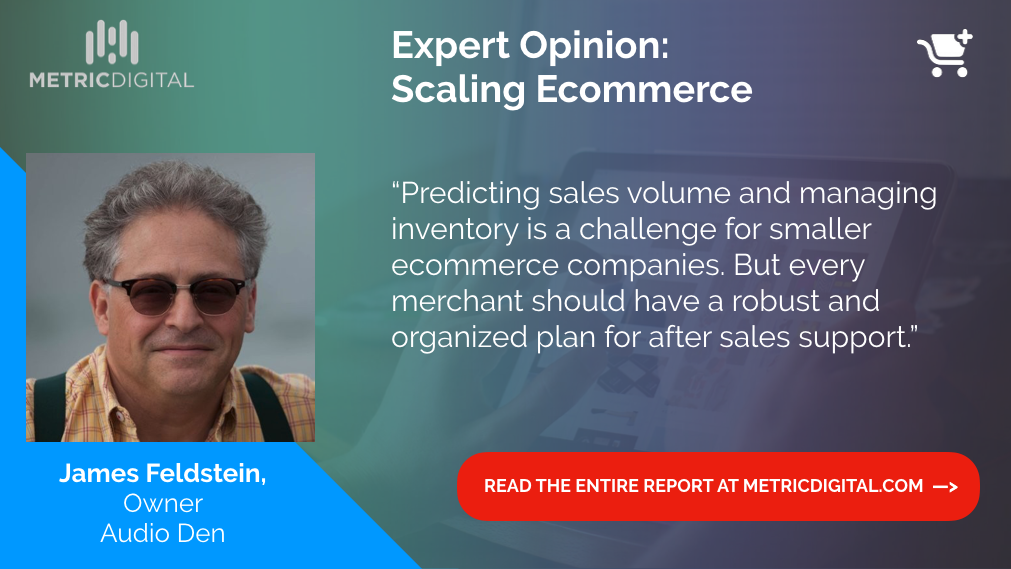 James Feldstein is the owner of Audio Den, an electronics retailer, and comes at this inventory problem from a customer service standpoint.
Predicting sales volume and managing inventory is a challenge for smaller ecommerce companies. But every merchant should have a robust and organized plan for after sales support. One that anticipates potential service moments.
Fortunately, most customers understand that shipping delays can happen. And as long as you are responding quickly and clearly, you lower the risk of churn. A smart tactic is to operationalize your post sale customer service process. Whether you personally field customer questions and complaints, or whether you have the assistance of technology, you can anticipate their needs in the event of inventory problems.
Build out a folder with customer service based resources. Set aside a few hours to write email templates, emergency website copy, phone scripts, even evergreen advertising images and messaging to be used as placeholders in the event of inventory nightmares.
BOTTOM LINE: The speed of the response is the response.
# # #
Ultimately, fulfillment doesn't have to be a trap, it can be a treasure.
With these insights, strategies and tactics, your company's dreams of scaling won't fall victim to inventory nightmares.