How Caraa Sport Is Winning The Manufacturing Game (+ Ad Creative Examples For Inspiration!)
By Scott Ginsberg, Head of Content, Metric Digital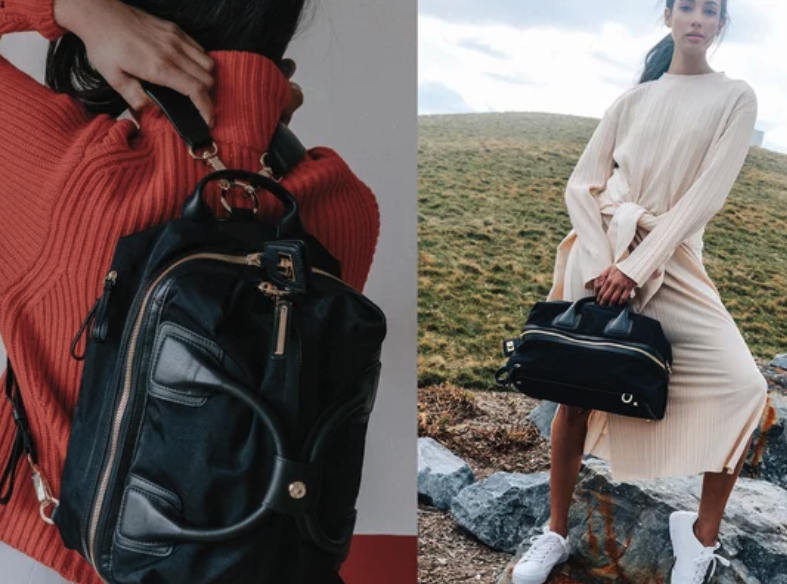 Is the industrial revolution back?
Caraa Sport seems to think so.
This bag and accessory company sought to reimagine handbags for modern life. With backgrounds in design and global supply chain, cofounders Carmen Chen Wu and Aaron Luo merged their respective expertise to create a brand we're proud to call one of our clients.
They've figured out a way to utilize advanced manufacturing capabilities throughout the entire product life cycle to create an amazing product, and along with it, an amazing brand.
How did they do it? Can any retail brand use the modern industrial revolution to create a sustainable competitive advantage?
We sat down with Aaron Luo recently to find out. Whether you're thinking of launching a retail product, building a new brand, or growing an already established ecommerce company, his words of wisdom and practice advice are invaluable.
When did your passion for manufacturing start?
Even though my background is in finance, my family has been in the manufacturing business for three decades. In today's world of mass production, apparel is more automated, but with accessories, you can still take a more crafted approach. This allows companies like ours to treat our products more as an art and less as a commodity.
Think about how a bag is put together: stitching, hardware, leather, fabric; there are so many components that go into the production, and every single detail matters. Tons of craftsmanship goes into it.
But something I started noticing in the fashion industry was—there were tons of beautiful products out there—but they weren't functional. Especially in the luxury space. Gucci certainly makes gorgeous bags that use innovative fabric and embellishment techniques, but they're one of the few exceptions to the rule.
Truth is: it doesn't matter how beautiful a bag is if you touch it once and it breaks.
How did manufacturing inform the vision as you launched Caraa in 2015?
As entrepreneurs, there were a couple of things we wanted to do in the accessory market. We wanted to manufacture a product that was still very exquisite and high end, but also functional. We're striving for the perfect balance between form and function. Almost like an architect. Because ultimately, people have to live with it every day. And our brand is the same way.
Now, when we looked at the overall market, there was nothing like that. With accessories, and more specifically with bags, you have the very high end, but not functional; you have the fast fashion brands which are still very chic, but lower quality; and then you have the traditional sports bag brands that are very functional but less aesthetically pleasing.
In short, the handbag category needed to evolve. The products still needed to be still very beautiful, well designed and well crafted, but with more utility.
As someone who has never bought or used a purse, can you specify how?
Caraa's bags come with a multi strap system that we build. You can wear it in a number of different ways, i.e., backpack, crossbody, satchel, and so on. And if you are going to a meeting, for example, you can change it up. This functionality allows the bag to actually transition with you throughout the various phases of your day.
Next, let's talk about the nylon that we use. We primarily use nylon with a lot of leather trimmings. Personally, we love engineering with these materials because they allow us to innovate and invest heavily in research and development. One material in particular is infused with silver. The idea behind it is, if you're using it for a sports bag and you are throwing your dirty clothes or your shoes in there, that metal makes it antibacterial. Lastly, we're focused on having the right, thoughtful pockets. Take our Studio Bags. You can wear those all the time. There's a section for tech, for office, for gym, and so on.
Sounds like there's an emotional core behind the functionality, right?
You have to start with empathy. Manufacturing these types of features is all about understanding what our customer's lifestyle looks like. If she's an account executive from an ad agency, she likely has a hectic day. She goes to work, gets in a workout after closing time, and heads out for drinks afterwards. Someone like that who's constantly on the go probably needs a sleeve for her laptop. What's more, if she's traveling, she will also need the sleeve for her roller bag, making airport travel more convenient. That's why knowing your customer's lifestyle is essential. That understanding is literally and figuratively woven into the manufacturing process.
What marketplace trends are you seeing for or against manufacturing?
In our previous lives, prior to launching Caraa, my cofounder and I worked at a firm that hired a sourcing agency, which helps medium to small sized brands to source and manufacture for global audiences. During that time, we had the opportunity and privilege to work with a lot of the small emerging brands that are growing. And one of the interesting things we saw in the overall market was that there were more and more brands. This is just not specific to accessories. We observed that there were a lot of DTC companies popping up.
But when we looked at the products, we agreed that they were good, but not great. What these brands were great at is being marketers. That's why they're special. That's their expertise. And from a brand building and customer acquisition standpoint, it does work. The story that customers tell themselves is that because this digitally native vertical brand has awesome marketing, it must have awesome products.
Personally, we're a bit allergic to brands with mediocre product but great marketing. At the end of the day, my cofounder and I had something those brands didn't: manufacturing experience and supply chain expertise.
Caraa was founded on the belief that we could take the best you can do in terms of product, make it very functional, very beautiful, infuse innovative materials, design and so on, but still have best-in-class digital marketing. That was the thesis when we started this brand. We wanted to turn the table a little bit and let the product shine before we let the story steal the show. We wanted to let the product be our competitive edge, not just superimposing the edge of a brand atop a mediocre product.
Nike, for example, can lead with their brand because they're a heritage legacy company, but when you're two people running a three year old brand, manufacturing becomes your differentiator. Our customers are very savvy. If they don't like our bags, they'll not only return it, but they will also leave an honest review on our website as well. They don't want their time and attention to be wasted.
But what if you don't have a manufacturing background? What if your family didn't spend three generations learning the art of craftsmanship?
It's not too late. New brands can still win. They can either partner with or hire somebody from the industry that really has these kinds of connections, or find an agency to outsource that function.
The key to remember is: You can't outsource your core value proposition. In my experience, it's very clear when you look at a brand and they're outsourcing their manufacturing and their supply chain. This doesn't make them wrong or bad, it just tells you that they're a branding brand, versus a product brand.
Confession: Caraa actually didn't use digital marketing for a long time. For the first few years, we did organic marketing with ambassadors to help tell our brand story for us, and also give us feedback when we launched a new product. Collaborations with household brands like Equinox also helped.
But today, manufacturing has a significant impact on marketing. And now that we're investing significant spend on digital marketing on Instagram, Facebook and Google, manufacturing focus comes into play in a big way in terms of our ad creative.
Can you give me some examples? What kind of impact can manufacturing have on a brand's performance marketing?
First of all, our account manager Sophie Goddyn, in a previous article, did a stellar job outlining the approach we took to paid social ads.
Next, here's a selection of several of our actual ads here, for your reference: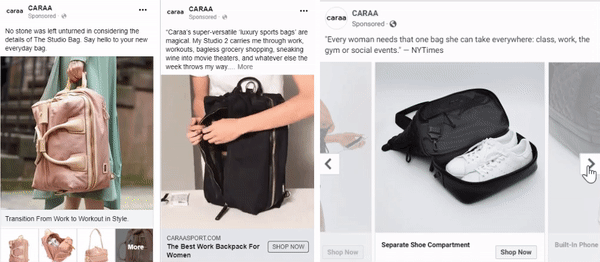 Finally, if you're running an accessory brand that hopes to lead with its manufacturing value proposition, use these tips to frame your ad creative going forward:
Any final thoughts on the modern industrial revolution?
We believe that the filter of manufacturing as a competitive advantage can help brands grow in new and exciting ways.
My recommendation to other entrepreneurs and retail brands out there is simple: nobody needs another mediocre product with great marketing.
Figure out your license to exist, as my cofounder and I love to say, and drive that core value proposition home through the craftsmanship of your product.
In time, your brand could become a legitimate player in a highly competitive market.