Facebook Performance By The Numbers: What Our Agency Learned In Q3 (+Tips To Drive Conversions During The Holidays!)
By Claire Yi, Associate Digital Specialist, Metric Digital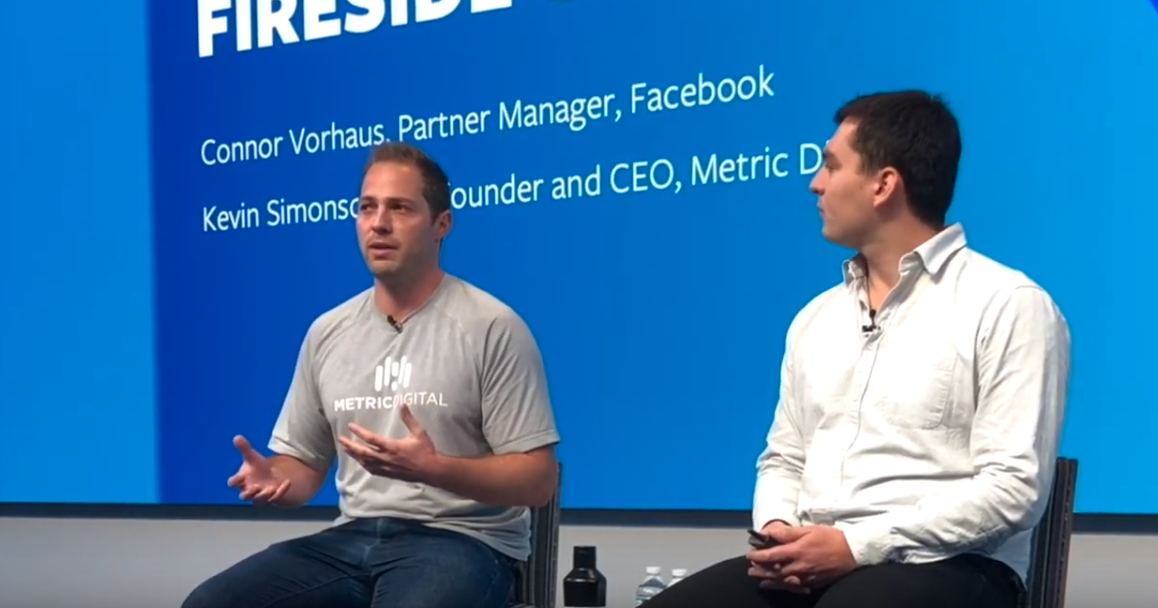 Facebook is a digital marketing channel, but it's also a deeply valuable relationship.
One of the perks of being a Facebook Premium Partner is access to exclusive resources, training and the top tier of agency support. From their creative workshops to measurement consultations to product betas to live support with technical specialists, Facebook has done an extraordinary job educating us on how to use their marketing tools to have the strongest impact on client growth. (Shout out to our awesome strategic partner manager, Connor Vorhaus!)
As a result of this relationship, our portfolio of direct to consumer clients has been able to gain a strategic advantage over their competitors.
Facebook recently conducted their quarterly agency reviews, and sent us a useful summary of our agency (and our clients') key performance indicators year over year, along with how those numbers compared with industry benchmarks.
We wanted to share several key data points from that report, along with insights and tips that you can apply to your business.
Please note:
This data does not reflect all of Metric Digital's clients, including brands in the Facebook Disruptors program.
We will not be revealing anything specific to our client performance, as that information is confidential. But the aggregate of this data from the broader context of our industry will be useful for your brand as you think ahead to the next quarter.
Okay, onward!
Data Point #1: Top Verticals
It's not surprising that our highest growth verticals are Apparel and Accessories, up 94% year over year, and Beauty & Personal Care, up 101% year over year.
One motivator for this increase is the decline of retail brick and mortar — there's been a channel shift. Today's merchants, if they want to start their own retail shop, don't go the old route of selling in department stores, which was once a great way to establish brand presence and awareness. Now, they start their own store, and especially in the Apparel and Beauty verticals, this is done online. And for those sellers to grow and gain awareness, they can't rely on middle men, wholesalers and other retailers like they once did. Now, they rely on digital marketing channels like Facebook to prospect and grow their brand.
Also, there's a large uptick in Photography and Filming, up 56% year over year. Considering that most media is digital (not just in advertising but also in the content creators make themselves) this increase makes sense. In a world where influencers are relying on their own brand and content, the need to film and generate native media has dramatically increased. Reminds me of the survey of a thousand children that revealed nearly three-quarters of young people are now considering a career in online videos. Being an influencer is a legit job and a viable source of audience growth, and this investment summary proves it.
Our final callout from this data set is the boom in the Career category, up 100% from last year. We've worked with several clients in this vertical over the years (read our case study, How We Turned Facebook From Dud to Stud for Hired.com), and here's our observation: Every vertical has to adapt. There are more eyes on Facebook and digital than ever before. And recruiting, as one example, is trying to reach people, especially younger candidates, on these platforms. Their old approaches are no longer enough.
Therefore, if you work in a legacy vertical that is stuck in old thinking, make sure you're forward thinking in your digital marketing efforts. Our CEO wrote a post on how disruptors are killing legacy brands, and it's worth a read if you're in that space.
Data Point #2: Solution Adoption
Facebook has shown time and time again that the brands which incorporate the widest range of products are more likely to drive long term growth and achieve business goals. Not every solution works for every brand every time, but it's always worth testing to figure out which tactics will lead to the best performance.
Pixel is the low hanging digital marketing fruit on this overview. As a performance agency, it's essential for us to gather data to garner insights. Pixel is the primary tool for collecting data that helps companies track conversions from ads, optimize ads, build targeted audiences for future campaigns, and remarket to customers who have already taken some kind of action.
That's why it's no surprise that our agency has 100% solution adoption. This tool is never a discrepancy for our clients. We place a high value on account structure and metrics from day one, and if you are not currently maximizing the use of Pixel, make sure you check that box immediately to avoid missing out on any attribution and key customer data.
Custom Audience is also worth discussing. Our agency tops out at 93%, versus the industry benchmark of 87%, since we are constantly testing between new audiences. To do so, we need to have Custom Audiences that we are testing, so we can ensure we're able to hit the right people with the right message at the right time, and avoid wasted expenditure.
Data Point #3: Effective Spend Assessment
We have 87% of total spend optimizing delivery across best performing placements of ad sets, aka, leveraging the algorithm. Compare that with Recommended Optimizations, aka, using manual optimization. Facebook is encouraging more of the former, so we're relying heavily on their machine learning capabilities because it probably knows better, and it'll only get smarter.
It's also important to note that the benchmark on Automated Delivery is only at 57%. Our clients are significantly higher, and that's because most brands out there are just now beginning to adopt this offering. We're proud to be ahead of the curve on this, as we are willing to take on changes going on within the Facebook channel, rather than shying away from them.
Not that the algorithm can do all the work, because you still need smart marketers to help train it and think about overall strategy. But if your brand or your agency is relying heavily on manual solutions, just know that there are automated solutions that can eliminate time wasted on some of these optimizations that would be better put towards strategy. Plus, human error is more likely to come into play, resulting in wasted expenditure.
Data Point #4: Instagram Investments
Instagram investment is up 70% year over year. We've been focusing on ramping up since last year in terms of hitting prospective buyers on mobile, particularly because Instagram is a vast-majority mobile application. Across a number of our clients, we're seeing that more users are shifting to mobile and tablet from desktop, and ensuring we're hitting people on those devices by thoughtfully increasing spend on Instagram.
October dips quite a bit on the investment side, but there's a reason: Brands often scale down ad spend during that month because most customers don't shop during that period. They're saving their dollars for upcoming holiday and deals that come with it. Retargeting will be performing well during this time, as those familiar with the brand are still shopping, but prospecting isn't your best avenue of investment at this specific moment during the year.
Come holiday, you see investment ramp up - not just on Instagram, but everywhere. We typically see a steady rise after that in the next year until the summer months where we see another seasonal dip, which results in another scale back in spend.
All in all, investment on Instagram is rising YoY (74%) and we're definitely beating out the benchmark in terms of adopting Instagram placements.
Data Point #5: Video Investment
Considering the previous data point, Facebook video investment is up 96% year over year. Here's why: Facebook's algorithm rewards video and motion based creative that are more likely to hook your audience immediately. Now, static should be part of every brand's digital marketing arsenal, but in our experience across our entire portfolio of clients, whenever we test video versus static, it generally outperforms significantly.
Just look at the numbers: The fact that we've seen growth of 96% year over year should be all the proof you need. Particularly during shopping season months, your company absolutely must leverage video.
Also note, ad spend will have to be higher during that time as CPMs will rise, since it's a more competitive space around Black Friday & Cyber Monday, so make sure you're using video to make your ads that much more engaging. It should be no surprise that investment plummets at the beginning of the year, and then returns to normal amounts later in the year.
If you want to learn more about the video Ad Creative type and its formatting options (Static Image, Post Production Motion, Stop Motion Video, Filmed Video, Image Carousel, and Video Carousel) check out our last post with winning Facebook ads you can steal to drive conversions.
# # #
It's been a heck of a quarter here at Metric Digital!
We're proud of all the hard work our team has put forth to generate such powerful results, we're grateful to our clients who have trusted us to use Facebook's solutions to help them grow and scale profitably, and we're privileged to have our amazing Partner Team at Facebook to educate us on using their tools more effectively and efficiency as they evolve.
Onto the final lap of 2019! See you for our next data roundup at the beginning of next year.