Exceptional Email Marketing Examples to Inspire Your Brand (Plus What Not To Do)
By Cory Smith, Head of Email, Metric Digital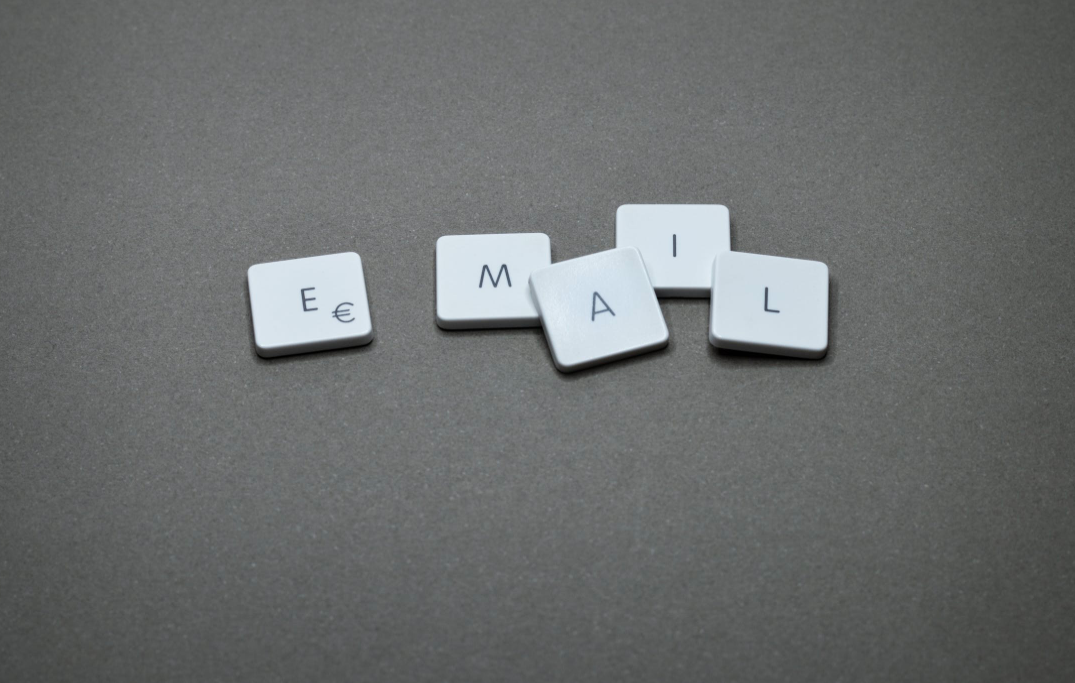 Have you ever wondered why you get the emails you do?

It's not an accident. Brands are highly strategic about when, what, and to whom they send emails. When it comes to growing revenues, timing isn't everything, it's the only thing.
For the last ten years, email has been my life. Not only as an in house email specialist at brands like Etsy, Makerbot and Cheetahmail; not only as the Head of Email here at Metric Digital, but also as a consumer. When emails are delivered to my inbox each day, I pay attention.
Today we're going to look at seven email campaigns. We'll explore their key attributes, strategies behind them, what not to do, along with tips to help your brand optimize your next campaign.
EMAIL #1
Brand: Timbuk2
Style: Sales Launch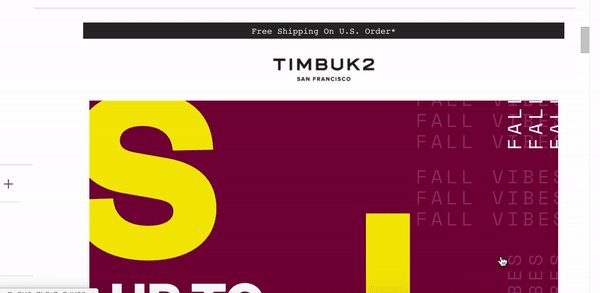 The most important element of any email is the subject line. This example just says, "Starts today."
It's simple and straightforward, with no cryptic messaging. The customer knows Timbuk2 is having a sale, and the promo code is available for their use.
If your brand plans on doing the same, just make sure your promo code is copyable and pastable, for easy switching between the user's email client and web browser, particularly on mobile. If the promo code is a static image, that will cause friction and annoy the customer.
Speaking of mobile, this email flows nicely on my phone. It's clearly designed with mobile in mind because it only has one column. Timbuk2 knows that most people will be viewing this promo on their phones, so they made the assets big, simple and easy to view.
Also, take note of the pricing structure beneath the product shot. Instead of showing the percentage off, they simply show the price. This is much easier for most people to understand. Something that $39 cheaper versus 40% off means people don't have to do math. If your brand is marking things down, we recommend showing the price difference in highlighted way.
EMAIL #2
Brand: BluDot
Style: Sales Ending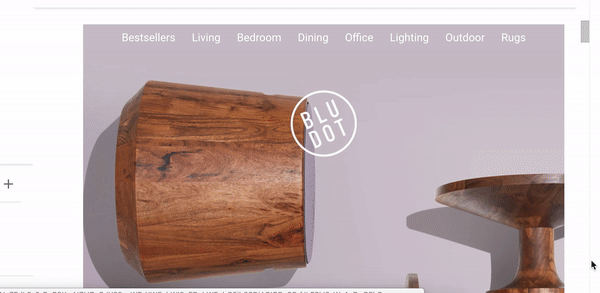 This email was sent out at 5:00pm. The subject says the sale ends at midnight. Smart. This last ditch effort creates urgency. Now, most people are probably not going to buy furniture on a whim. But according to my inbox, BluDot has been sending lots of emails about this in their series. Roughly once a day for the last week. This particular email is the final message in their campaign.

The navigation is a key element to call out here. I typically advise against brands putting it at the top of the page. Because if you're looking at the email on a phone (which most people are) then it's too small to see. What's more, if the user reaches for the nav with their thumb as their other fingers hold the phone, there's a good chance that they're going to miss it or click on the wrong thing. They would have to switch hands mid browse, and that friction point creates a frustrating user experience and potentially misses out on sales.
EMAIL #3
Brand: Glossier
Style: General Promo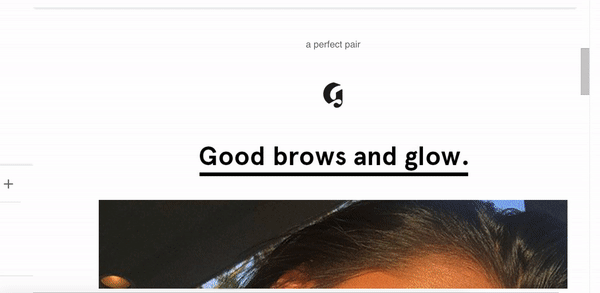 Glossier has a huge variety of products within the beauty category, from lotions to makeup to face masks. Several elements make this email worth emulating. First, they're encouraging customers to pair two items together. Strategically, what the brand is trying to do is push up average order value. And the discount is the incentive.
Design wise, this email is really minimal. Skincare, makeup, and nothing else. There is some additional navigation at the footer, but it's so lightweight that someone can easily process it. And the call to action icon at the end of the email helps drive users to the website, which is the whole point of sending any email in the first place.
Also, let's look at the timing of this email. What I recommend to my clients is, send an email for a product at the time of day when someone would use that product. If you're selling a candle, for instance, the start of the workday doesn't make sense. But somebody might want to light a candle in the evening when they get home from work. Similarly, a cleaning product might make more sense to send on a weekend when people are cleaning or thinking about cleaning.
EMAIL #4
Brand: Life After Denim
Style: Product Launch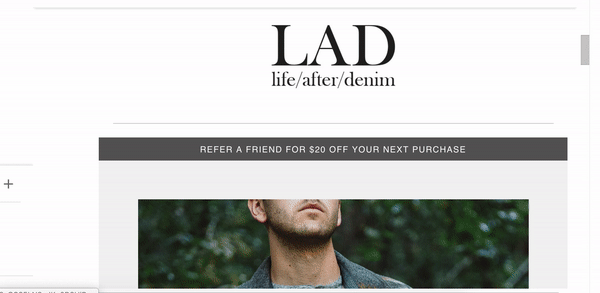 Life After Denim uses a couple of different variations on their launch template, but overall there is a consistent look and feel. This is critical, as it trains the customer.

Visually, this email doesn't go overboard by showing a million products. There are only a few key items. What matters most is that they drive traffic to the page that has all of these specific products available to buy. Whereas taking the user to a page of new arrivals would confuse and disappoint them.
Remember, the job of every email is not to sell a product, but to get people to the website, so the site can sell the product. Sometimes brands try to do too much in one email. They want that letter to sell the product, but in reality, it just needs to be part of the user experience. Brands should let the email do its job, and let the website do its job.
Google has a cool tool called AMP, which is Accelerated Mobile Pages. (Read our email commentary about this program here from CMS Wire!) This is a simplified web page that makes checkout on your phone seamless. There are limitations to this program, but it's exciting to see how the mobile shopping experience is evolving.
EMAIL #5
Brand: Sierra Trading Post
Style: Free Shipping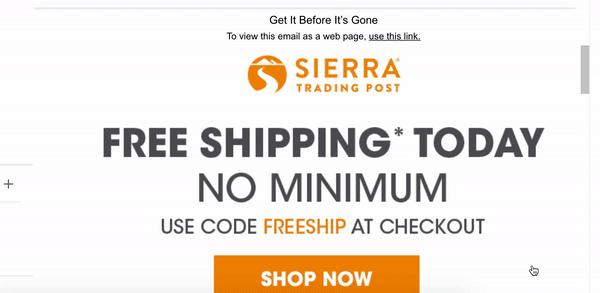 The thing about free shipping is, people expect it. At this point, if you don't offer free shipping, customers are going to wonder why they don't just buy on Amazon. It's no longer a nicety, it's a necessity.
If you're not familiar, Sierra Trading Post essentially has a constant garage sale. That's their whole business model. They don't usually offer free shipping because the margins are already really slim. Which means, when they offer free shipping, it's a big deal. If a customer buys a lot of products on their site, they're probably used to paying for shipping because they're getting a great deal anyway. Which makes the message all the more compelling.
The navigation also flows nicely. It's designed with a really light hand. There isn't some poor designer who spent hours and hours poring over this asset, figuring out how to make it look amazing. Most likely, somebody at Sierra said, "Hey guys, we need to do a free shipping email, let's get this together immediately and send it out."
It looks great, and they also didn't burn a bunch of time debating about what it was, what it was going to look like, etc. Done is better than perfect.
One element I don't love about this email is, it's just one big image. Somebody easily could have coded text into it, but they didn't. This design flaw is something I'm always harping on clients to avoid, and here's why. When you send an email that is one big image, it's likely to be treated as spam. As an experiment, take a look in your spam folder right now. You'll probably see lots of emails with this very design structure. Don't let this happen to your brand!
EMAIL #6
Brand: Caraa
Style: Seasonal Changes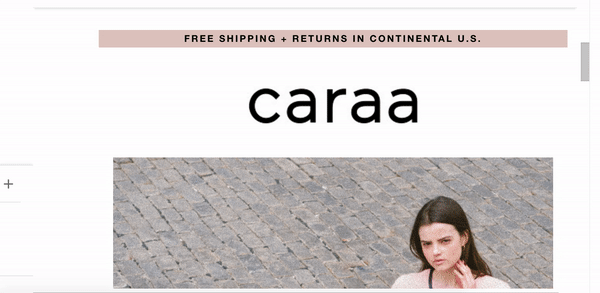 There are two ways brands can approach this strategy. Either the new season is here, or the old season is ending. Apparel retailers love this approach as a way to clear out their inventory to make way for the next round of products. When your emails revolve around the seasons, you're speaking in a currency. In fashion particularly, because everyone is talking about it.

Caraa's email has a clear call to action with some photos. That's the end of the story. They feature the product and the season of which it is a part. This brings up a key point about successful email marketing. Some companies get tied up in what the product is, versus how they want the product to look. Instagram, for example, is often more about how people are using the product, and what kind of people are using it.
Which is fine for a social post, but for email marketing, you want the actual product to really pop and be the hero of the story. Caraa's photography offers a striking contrast. In this email, the beautiful colored bag stands out against the grey stone pavement and the model's earth toned clothes. Well done.
EMAIL #7
Brand: Flagpole
Style: Welcome Email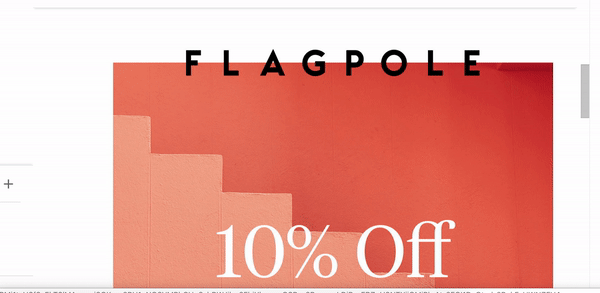 The goal here is branding. Period. When someone signs up for the email capture on the brand's website, this welcome email tells that person a little bit about the brand. Clearly, that person came to the website for a reason, which means Flagpole doesn't need dozens of swimsuits on one page.
What they do share are several pillars of their brand, i.e., made to empower. That's something different about their brand versus the competition. They want women to slip into a style that's going to make them feel confident.
They also feature the two founders. And not all company executives are comfortable putting themselves in email campaigns, which is fine. Doing so can get tricky, especially if the founder doesn't necessarily embody the brand visually. For example, if the founder of a women's swimwear company is a man, it won't send the same message. Flagpole, in this case, has two women, making products for women, and their photos build trust and authenticity for the brand.
# # #
Now that we've explored these seven email marketing case studies, allow me to leave you with a few final insights for your future campaigns. First, here are some questions to ask before you send any email out:
What are the goals of my company right now?

How is this email going to make my customers happy?

Is there a piece of content in here that they want to see?

Is there something here that's a little bit extra?

What's really in it for the customer?

Having worked with dozens of clients at Metric, and having worked at many companies over the years, the overriding mistake brands make is sending an email because they want to sell a bunch of stuff. Throwing as much digital spaghetti against the fridge and seeing what sticks.
But that's the wrong way to do email.
When you're sending anything, you must meet the minimum criteria for why this email is important.
Remember, email is permanent. You can't unsend it. Once it's out there, it's out there.
Inspired yet? If so, we would love to help your company use email for maximum impact. Contact us today for a free digital marketing audit.