Badvertising: Our New Book About How Big Agencies Are Screwing Big Companies Out of Big Money, And How to Stop It
By Scott Ginsberg, Head of Content, Metric Digital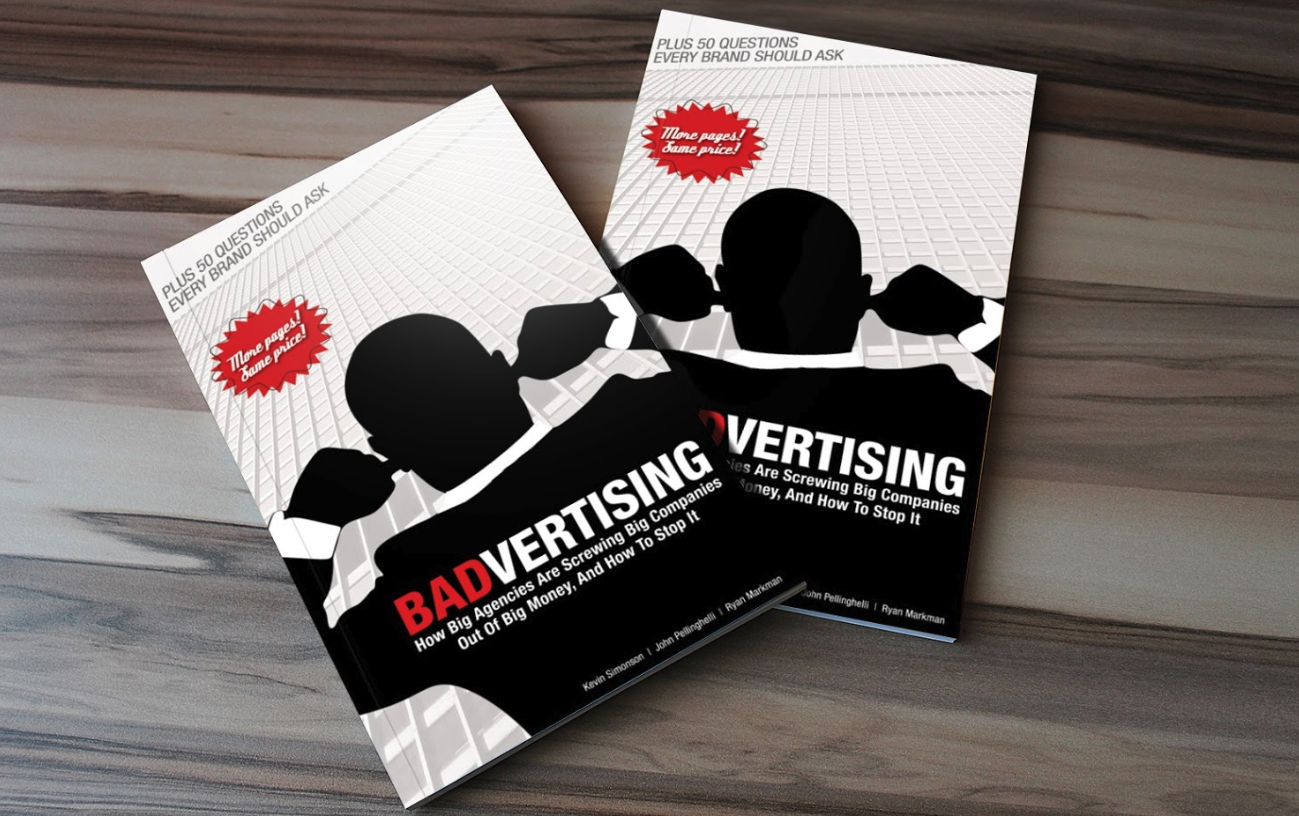 Today, our marketing agency, Metric Digital, has released a new book, Badvertising: How Big Agencies Are Screwing Big Companies Out Of Big Money And How To Stop It. (Buy now on Amazon!)

Anybody who has been paying attention knows that the marketing agency world has been crumbling under the weight of its own bloated fraud, and Badvertising is an expose on how bad the problem is for a group of marketers who have worked from small startups to some of the largest companies in the world.
Kevin Simonson, John Pellinghelli, and Ryan Markman wrote this book to shine a light on what's happening and why it's not only impacting the brands that are being robbed, but also the end consumer.
More importantly, they wanted to educate all parties involved: CEOs, CMOs, CFOs, brands of all sizes, marketing agencies, ad tech companies, private equity and venture capital firms, consultants, customers, and anyone else who is part of the digital marketing ecosystem.
There are two completely different worlds of marketing right now: traditional advertising and digital performance marketing. Each thinks the other is wrong, but one is stealing business from the other one.
"You shine a light in a dark place to find out what's going on. Now that brands are asking for transparency with their agencies, they are finding that they're being lied to. It's not just a Programmatic problem, it's a contract incentive problem across Facebook, Instagram, Google, and all channels." --Kevin Simonson, CEO/Co-Founder.
Inside Badvertising, here's what you can expect to learn...
What are toxic agency-client relationships and how to know if you're in one (checklist included)

Learn the potential grave effects of badvertising on your business

Questioning techniques that will help you ascertain the integrity of your agency (even if you're not a digital marketer)

Specific questions you can ask your Facebook Marketing, Search Engine Marketing, and Email Agency

Plus, many more examples of how companies are being taken advantage of by their digital advertising agencies
But don't take our word for it. Here's what our colleague, Taylor Sicard, the Co-Founder or BV Growth, had to say about the book:
"Badvertising reveals marketing insights for every level. From founders wearing all the hats, to new entrepreneurs, all the way up to CMO's who want their teams to stay ahead of industry standards. Use this book as a guide for your marketing team to make sure they leave no digital stone unturned,"
Remember, you don't need to make an entire organizational transformation to fight back against Badvertising.
You just have to start with a little bit of humility.
Download your free chapter here!
Get our tips straight to your inbox, and start driving revenue today.
Thanks!